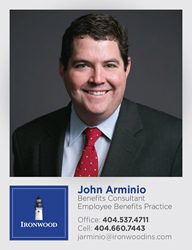 "John is a natural fit for the firm and a welcome addition. He is an expert in medical plan consulting and will be effective in assisting our clients as they manage their ACA compliance and long term benefits strategy," said Mark Conner, Managing Partner
Atlanta, GA (PRWEB) February 02, 2015
Furthering its commitment to offer nationally competitive resources with a strong local service team, Ironwood Insurance Services announced they have added another experienced and quality industry professional, John Arminio, to its Atlanta team. John will join the employee benefits practice as its newest Benefits Consultant. He will lead a consulting team and assist in expanding the reach of Ironwood's practice.
"John is a natural fit for the firm and a welcome addition. He is an expert in medical plan consulting and will be effective in assisting our clients as they manage their ACA compliance and long term benefits strategy," said Mark Conner, Managing Partner of Ironwood Benefits Advisory Services.
As a Benefits Consultant, John's focus will be client development and support in all areas of the practice including group medical, dental, vision, short and long term disability, life and voluntary benefits. He will provide consulting services to clients in the areas of plan pricing, funding and review, communication and enrollment technologies, plan and employee cost share benchmarking, data analytics, and employee wellness programs.
John began his career as an underwriter where he priced and designed employee benefits programs for customers at the insurance carrier level. This experience gives him a strong acumen for financial analysis, benefits strategy and alternative funding options. He later worked in the field serving large and middle market clients where he continued to develop market and industry expertise.
"In our business, people are the assets. We sell a promise, therefore we want the best people representing us," said Will Underwood, Managing Partner. "John is a true asset for Ironwood. Not only is he a talented individual, but he also brings expertise gained from nearly a decade of experience working with the largest health insurance carriers."
About Ironwood Insurance Services: Ironwood Insurance Services is a privately held firm providing insurance brokerage, surety services, risk management, employee benefits consulting and human resources outsourcing services. Our firm was founded on the principles of teamwork, integrity and service to others. We recognize that our people are our most valuable asset and believe that great people deliver excellent customer service. Our success is measured by the amount of positive impact we have in the lives of our clients, employees, shareholders and community. To learn more about Ironwood Insurance Services, please visit http://www.ironwoodins.com.