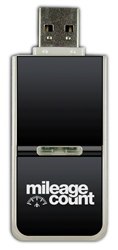 The most significant finding may be that the act of recording journeys, in itself, delivers cost savings
(PRWEB UK) 29 January 2015
The Fuel Card Group has concluded a 12-month nationwide analysis of customer journeys, probably the largest ever such survey. It analysed journey data collected by MileageCount GPS dongles used by 231 drivers in 252 different vehicles, in fleets managed by 66 companies.
Steve Clarke, marketing manager for The Fuel Card Group, said: "We believe this to be the largest such analysis ever undertaken. We collected and analysed all the details of 29,428 separate journeys, covering over 560,000 miles of road travel. The most significant finding may be that the act of recording journeys, in itself, delivers cost savings."
The analysis compared drivers' mileage claims. There was a clear difference between drivers whose journeys were recorded with MileageCount GPS dongles and those who kept journey details manually. Claims for recorded journeys were noticeably lower. "The average difference, overall," said Steve Clarke, "amounted to a 4.8% lower mileage claim. We are not drawing any conclusions about drivers, but the clear evidence is that they make smaller claims when they know that every journey is satellite-tracked."
An equally worrying finding concerned journey length. Although the average journey was just 19.03 miles, one driver clocked up a single journey of 472.2 miles. "The distance is not the important fact," said Steve Clarke. "The driver was at the wheel for just over 8 hours, 40 minutes and never stopped driving for more than five minutes during the entire trip. If he had been involved in an accident, the duty-of-care implications for his employer could have been horrific."
The analysis also identified areas in which fleets could make annual savings worth hundreds of pounds per driver. The Fuel Card Group is ready to discuss this and other survey findings on a one-to-one basis with fleet managers. Steve Clarke said: "If you run any kind of fleet – cars, LCVs, HGVs, mixed vehicles – we are happy to take you through everything, in as much or as little detail as you want. Just call us on 0844 870 8741 or go to http://www.mileagecount.co.uk. There will be no 'hard sell,' although we would be delighted, obviously, if anyone then decides to take up our offer of a 60-day free trial of MileageCount."