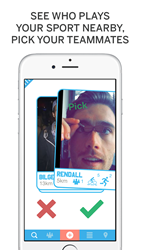 We have taken the best parts of Tinder and Instagram and combined them to connect sporty people. - Sam McCallum, CEO & Co-Founder of Teamster
Melbourne, VIC, Australia (PRWEB) January 29, 2015
Available today, the app Teamster offers users the ability to find people nearby to play sport with, as well as organise sports activities with friends and Teamster users. With 19 sports currently on offer, Teamster is designed for everyday runners, cyclists, ball or water sportsmen and women, as well as being a huge benefit to travellers. Whether the user is a beginner or an elite athlete, Teamster will find new training buddies and sort out who is coming to play on the weekend without having to ask everyone individually.
After logging in through Facebook, users will be asked to select the sports they play and the skill level associated with each sport, from Level 1 (Beginner), to Level 5 (Elite). Teamster will then suggest the best suited people through its precise recommendation engine. The user can begin Tinder style swiping through the users who play the same sport, with a similar skill level, in their area. A swipe to the right will send a team request, while a swipe to the left will skip the user.
On the Instagram inspired activity feed users will be able to see and join upcoming nearby activities that their teammates and other users have created for their selected sports, (an activity is a sports session with a set day, time, location, specific sport and level). The activity map reveals the same activities in a map format, with each activity displayed as a sports symbol in the location that the activity will be taking place. When any user joins an activity the creator will receive a notification, while all attendees will be reminded of the activity prior to the start time.
To create an activity, the user clicks on the Instagram-like orange button in the centre of the bottom menu bar. The user can then enter the activity details; sport type, day & time, description, duration, location and select who can join the activity, (anyone, teammates and their friends or teammates only). Users also have the option of posting the activity to Facebook.
"As an ex racing cyclist and runner, I realised there was room for a platform that would make it easier for sportsmen and women to connect and see what everyone is doing for the week, it's something that I wish was created earlier" says 22 year old Teamster CEO and Co-Founder, Sam McCallum.
The design and functionality of Teamster has a sporty feel to it, with users' profile pages as an American style college locker, featuring a jersey with the user's last name and the jersey number as the user's age. Users are able to upload 5 profile photos and write a small bio which is all shared with other users.
User privacy has been taken into consideration at every stage of Teamster's development; users have the ability to block their profile from being seen and contacted by the opposite gender, while users between the ages of 13 and 17 will only be able to see other users within this age bracket.
Teamster is currently available for free on iPhone & iPad, with the Android version coming soon.
Please visit http://www.GoTeamster.com for more information on Teamster, including app videos, screenshots, a press kit, all social media accounts and a brief description on the development team behind Teamster.
To install Teamster: https://itunes.apple.com/us/app/teamster/id909633954?ls=1&mt=8