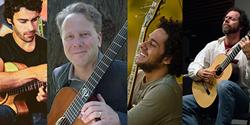 (PRWEB) January 30, 2015
International Guitar Night returns to Soka Performing Arts Center on Friday, February 20, 2015, at 8:00 p.m. This year's lineup includes founder Brian Gore, classical innovator Andrew York, Brazilian jazz icon Diego Figueiredo, and contemporary Iranian-Canadian steel string wizard Maneli Jamal. Single tickets are $39 for adults, $29 for students and seniors aged 62 and above. Tickets for groups of 10 or more are $25 each. Purchase tickets online at performingarts.soka.edu or by calling 949-480-4ART (4278).
San Francisco guitar poet Brian Gore is gaining a reputation as one of the most interesting and influential performers of the next generation in finger style guitar. Brian founded International Guitar Night in 1995 as a forum for the world's finest guitarists/composers to play their latest original songs and share musical ideas with their peers in public concert. This has evolved into critically acclaimed annual tours in the US, Canada and the UK, a guitar instruction book and multiple CD releases.
Diego Figueiredo is considered one of the most talented guitar players in the world today. He is the winner of several important competitions, including the Montreux Jazz Competition and the VISA Prize. Figueiredo has released more than 19 albums to date, three DVDs and several instructional books. His music is a fusion of jazz, Bossa Nova and classical.
Andrew York is one of today's most visible and innovative classical guitar composers, winning a Grammy with the Los Angeles Guitar Quartet during their 16-year partnership. Besides his classical performance and compositional accomplishments, Andrew also has an extensive background as a jazz guitarist, studying with jazz legends Joe Diorio and Lenny Breau.
Acoustic guitarist and composer Maneli Jamal has lived in five different countries (Iran, Belarus, Germany, USA, Canada) and had moved 20 times by the time he was 18. He has won countless music competitions around the world including placing in the top three at Guitar Idol, a worldwide guitar competition held in London, UK. Having been brought up in a purely artistic and musical family has contributed to shape his unique story-telling approach.