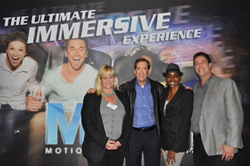 Vince Power, Business Development Manager, Xpand: 'What I was impressed with was that the action in the chair meshed very well with the imagery that you were watching...this was very well done.'
Torrance, CA. (PRWEB) February 02, 2015
Indicative of its growing prominence as a "go-to" player in the rapidly expanding global 4D cinema marketplace, veteran interactive technologies company MediaMation, Inc. (MMI) of Torrance, CA, both hosted and participated in various high-profile activities related to the recent International Cinema Technology Association conference (ICTA). The series of MMI events culminated in a highly successful industry-only screening of the Liam Neeson action thriller, "Taken3," at MediaMation's new 104-seat MX4D™ Motion EFX Theatre, located at the Plaza Stadium Cinemas 14 in Oxnard, California.
Holding its conference at the Universal Hilton in Los Angeles, Jan. 19-21, the ICTA promotes technological advancements in the motion picture industry through educational seminars and programs. "4D" refers to an emerging "immersive" technology which allows movie-goers to experience big Hollywood "blockbusters" in a new way via the addition of moving seats, air/water blasts, leg ticklers, fog, scents and other special effects that emanate from specially designed theatre seats, or from inside the theatre itself. These special effects are programmed to both sync with and enhance the action on the screen for a more exciting and realistic movie-going experience.
On January 20, MMI Founder and CTO Dan Jamele addressed the large industry crowd of theatre chain operators, motion picture studios and cinema tech vendors who gathered to attend the ICTA "Immersive Technologies" panel, moderated by Susie Beiersdorf, VP of Sales, Digital Cinema Solutions, Sony Electronics. Jamele, a technology innovator and executive who has developed numerous products and software, as well as immersive attractions, for over 20 years, described how MX4D™ Theatres increase an exhibitors' incremental attendance, transaction rates, and overall revenue. Additionally, he pointed out how the avid movie-goer, who is the best customer, has taken to this technology, and expects all of the major movies to be in the MX4D™ format once they experience it. "With over 9,000 motion seats installed in various venues, parks, attractions and cinema's worldwide, MMI has a unique experience base for this technology. We knew that as we introduce the cinema-goer to Hollywood movies in the MX4D™ format, it would be a huge hit. Certainly, the most important thing on an exhibitor's mind these days is how to differentiate the cinema experience from not only their competitors' theatres, but what people can experience in their own home today. MX4D™ Motion EFX Theatres provide their customers with excitement and immersion like no other technology that they simply can't get at home or in their competitions' theatres."
Besides sponsoring a well-attended ICTA industry luncheon earlier in the week, MMI invited conference attendees and guests on Wednesday, January 21, to enjoy a gourmet box meal and champagne aboard a chartered luxury bus to MMI's aforementioned MX4D™ theatre in Oxnard, CA. After receiving complimentary popcorn and drinks courtesy of Santa Rosa Entertainment Group, owners of Plaza Stadium Cinemas 14, attendees were able to experience MMI's MX4D™ unique hardware and software technology in action via the specially-programmed screening of Twentieth Century Fox's box-office hit, "Taken3."
Among the various positive comments heard at the VIP screening, Dale Davison, Senior Vice President of Operations and Development, Metropolitan Theatres, stated regarding MediaMation's MX4D™ technology: "Well, I think there is definitely a market for this product. I think you have a large audience, let's say between the ages of maybe 12 to late 20s, early 30s, that really -- especially for the action-adventure pictures and horror pictures -- will find this a further enhancement...."
Noted Vince Power, Business Development Manager, XPAND: "What I was impressed with was that the action in the chair meshed very well with the imagery that you were watching...this was very well done."
Added Heather Blair, MMI Head of Cinema Sales: "We felt it was important to show a full-length feature MX4D™ movie to cinema exhibitors, VPs of technology, equipment suppliers and integrators, as well as to studio executives who supply MediaMation with content. Most of these people have only been to demonstrations at our office and at shows such as 'CinemaCon' and 'CineAsia.' We wanted to drive home that this experience is not only well-received in countries such as Mexico and Colombia, but also works well in the U.S. in smaller DMAs as well as larger ones like Los Angeles."
Also commenting on the "Taken3" ICTA industry event, MediaMation President and CEO Alison Jamele remarked: "We were genuinely pleased by the great turn-out and enthusiastic industry response to our MX4D™ experience," she noted. "Cinema industry influencers were finally able to understand what all of the buzz is about regarding our innovative 4D technology. With our MX4D™ Motion EFX Theatre in Oxnard, ticket sales for the 4D experience have bypassed its 3D counterpart, as well as increased revenue by attracting incremental customers to the theatre."
*************************************************************************************************
About MediaMation, Inc. - Founded in 1991, MMI is an entertainment systems integrator that provides interactive attraction technology for complex, interactive shows, attractions, rides, exhibits, fountain shows and 4D theatre environments worldwide. Coupled with their visionary designers and tech team, MediaMation is relied upon by various venues such as cinemas, theme parks, museums, themed environments and interactive exhibits to install their attractions.
MMI has installed MX4D™ Motion EFX seats and turnkey 4D/5D theatres throughout the world. Most recently, installations have included 250+ motion effects seats each for Cinemex's X4D® Cinema Theatres installed/installing throughout Mexico in 17 of their cineplexes. Cinemex is the 5th largest Cinema chain in the world and was recognized as the "Best International Cinema" at the ShowEast Conference in 2013. Longstanding MMI clients such as "Ripley's Believe It or Not," Moving 4D Theatres in San Antonio, Texas; and Baltimore, as well as Legoland Discovery Centers in Toronto, Chicago and other locations, continue to use MMI to supply them with high-quality 4D immersive theatres. MediaMation's MX4D™ Motion EFX Theatres are installed in more than 34 countries. For more information, visit http://www.mediamation.com