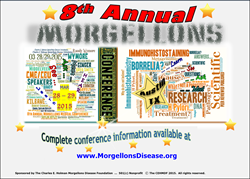 Establishing Morgellons as an infectious disease takes an over-abundance of reproducible scientific evidence. Each year, the Holman Foundation has sponsored this...conference...to provide research scientists...a venue to share.... - Cindy Casey-Holman, RN
Austin, TX (PRWEB) January 29, 2015
The Charles E. Holman Morgellons Disease Foundation (CEHMDF) is pleased to announce the 8th Annual Medical-Scientific Conference on Morgellons Disease. The two-day event, Searching for the UnCommon Thread, brings researchers, medical professionals and patients together to cover the most current findings in the medical research of Morgellons Disease (MD). The goal of the conference is to provide physicians, medical practitioners and the public the most current developments with Morgellons as well as a broader understanding of the rare disease. The event takes place March 28-29th at the Wyndham Garden Hotel in Austin, TX. Special room rates are available for those attending the conference. Early bird registration with a discounted conference admission is open until Feb 15, 2015.
Morgellons Disease is a multi-system illness uniquely characterized by the formation of unusual colored fibers within the skin. A debilitating condition that often includes slow-healing skin lesions, patients describe overwhelming fatigue, GI disturbances and an array of neurological deficits. MD affects people of all ages, gender and ethnic groups worldwide.
According to the foundation's director, Cindy Casey-Holman, RN, "Establishing Morgellons as an infectious disease takes an over-abundance of reproducible scientific evidence. Each year since 2008, the Holman Foundation has sponsored this medical-scientific conference in Austin, TX, to provide research scientists throughout the world a venue to share their work on Morgellons Disease." Patients and medical professionals are encouraged to attend to learn, ask questions and for open discussions and debates. This year, the conference will offer CMEs and CEUs for medical professionals.
The 2015 speaker line-up will feature returning favorites as well as new prominent personalities from a variety of medical specialties. Speakers at the two-day event include Eboni Cornish, MD, who will discuss a functional medicine approach to the disease and Eva Sapi, PhD, who will speak on Investigation of the Infectious Etiology of Morgellons Disease. We are very excited to welcome Carsten Nicolaus, MD, PhD, from Augsburg, Germany, who will be discussing European developments concerning Morgellons Disease.
The conference will be held on Saturday & Sunday, March 28-29th at the Wyndham Garden Hotel in Austin, TX. Registration includes admission to both days and the Saturday evening reception. Guests are encouraged to book rooms early. Full conference details and online registration are available at http://www.MorgellonsDisease.org.
The CEHMDF is the recognized informational authority and primary funding source for Morgellons Disease medical-scientific research. There are neither grants, nor any other public or private funding sources to support research for Morgellons Disease. Conference event proceeds will be used to further this mission. Donations are tax deductible.
About The Charles E. Holman Morgellons Disease Foundation
The Charles E. Holman Morgellons Disease Foundation, based in Austin, TX, is a 501(c) (3) nonprofit organization committed to advocacy and philanthropy in the battle against Morgellons Disease. The foundation was named for Charles E. Holman, a pioneer in the fight against Morgellons Disease, and is led by Executive Director Cindy Casey-Holman, RN.