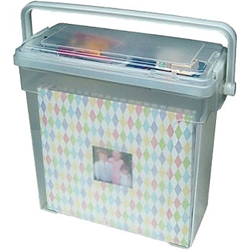 Urbana, IA (PRWEB) January 30, 2015
Online retailer SpaceSavers.com is adding to its line of scrapbooking supplies with products from IRIS®, designed for convenient storage of photos, papers, and more.
Barb Rawson, Product Specialist, says many of the pieces can be used together or separately, providing a unique benefit for scrap bookers building a storage collection.
"IRIS pieces have always been popular for us, and these are particularly useful because they can be used together," said Rawson. "A great example is the photo keeper boxes which can be used as single cases, or stored within a larger photo keeper box. The hanging folder files are similar in that they can be used on their own, or stored within the carrier."
As with many of the plastic storage boxes on the company's e-commerce site, the photo and paper storage boxes are also available in bulk quantities. Each product page features a link to a Bulk Order Request form. Rawson says the bulk option was created as a way for customers to save money, particularly those from schools, colleges, daycare centers, etc.
"We often hear from art teachers and other educators who use the bulk option to purchase organization supplies for multiple classrooms," said Rawson.
While bulk quantities can be requested via the online form, customers can also call the company's sales team at 800-880-6264 to inquire about special pricing for bulk quantities.
The entire category of Scrapbooking Supplies can be viewed at: Scrapbook Storage Containers.
###
About SpaceSavers.com
SpaceSavers.com is an e-commerce website selling a variety of storage and organizing solutions for the home, garage and office, from popular brands like IRIS®, Closetmaid®, Umbra®, and Rubbermaid®. Headquartered in east central Iowa, SpaceSavers is owned and operated by Clickstop.com. Other Clickstop web property brands include EcoFoil.com and JustPlasticBoxes.com.