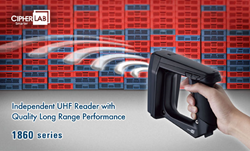 1862 UHF RFID reader has a long reading range of 16.5 ft. which makes data collection easier from the ground.
Plano, TX (PRWEB) January 29, 2015
CipherLab, a leading innovator in Automatic Identification and Data Capture (AIDC) for the retail, warehouse and distribution markets, announced today that its 1862 UHF RFID handheld reader is launched.
CipherLab 1862 UHF RFID handheld reader has a long reading range of 16.5 ft. which makes data collection easier from the ground. Users can also easily reach and collect data from hard to reach locations. On top of that, the data collection process is made simple with the ability to read manifold and various EPC Gen 2 (ISO 18000-6C) tags at one shot. CipherLab's 1860 series' high performance RFID technology makes applications such as asset management and item level tagging quick and easy.
"The deployment of RFID technologies has been picking up in environments such as warehouse operation, logistics, manufacturing, and retailing industries. UHF RFID systems are getting more attention due to the benefits it could generate and the improvement that has been made. We aim to fulfil as many needs and expand our products to better serve our customers." commented by Luis Wu, Vice President and General Manager of CipherLab USA.
CipherLab 1862 UHF RFID handheld reader has made RFID data collections easy and efficient with its powerful RFID reader function. CipherLab 1860 series further sets itself apart with its ability to extend its RFID reading and writing capabilities to existing mobile devices through its Bluetooth® pairing. The 1860 series enables versatile data collection with Bluetooth® pairing while the 1862 also includes Bluetooth® V4.0 dual mode which is backward compatible with current and future smart devices. This conveniently allows users to have no worries of high replacement costs for their existing mobile device investments. The 1860 series handheld reader's compatibility provides the ultimate investment assurance for its users.
For more details and specifications regarding CipherLab 1862 Handheld UHF RFID Reader or other CipherLab products, please send an email to NASales@cipherlab.com or contact our office at 888-300-9779.
About CipherLab
As a global leader in auto identification and data collection systems, CipherLab's units are currently assisting many of the world's largest companies operate more efficiently. While their U.S. headquarters is located in Plano, Texas, CipherLab also has offices in Taiwan, Germany, and China. Since their founding in 1988, CipherLab engineers have constantly worked hand in hand with industry partners to deliver superior products for their customer's needs.