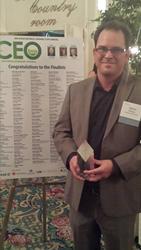 Daniel Sullivan has refused to let anything get in the way of accomplishing his life purpose of changing the way this world generates electricity.
San Diego, CA (PRWEB) January 29, 2015
Sullivan Solar Power founder and chief executive officer, Daniel Sullivan, received San Diego's Most Admired CEO award Wednesday for the second consecutive year. The Most Admired CEO awards, administered by the San Diego Business Journal, recognize San Diego's leaders for their outstanding professional achievements and their contributions to the community.
"San Diego's business community is comprised of leaders in innovation and entrepreneurship, so this experience has been extremely humbling," said Daniel Sullivan, founder and president of Sullivan Solar Power, "I am grateful to be recognized among such prominent leaders and honored to receive this prestigious award."
Daniel Sullivan is a self-made entrepreneur that has a rags-to-riches American dream type of story. More than a decade ago, Sullivan was one of the first people in the San Diego area to realize the opportunity that would come from tapping into the abundance of sunshine the area has to offer. At the young age of 27, he set out to change the way the San Diego region generates electricity with only $2,500 in the bank, an old set of tools and a beat up truck. The young entrepreneur worked and slept out of one of his customer's garage warmed by a space heater for the first year.
Since 2004, Sullivan has grown out of a garage and into four locations in California, becoming one of the largest solar energy companies in the state. Today, Sullivan employs more than 120 passionate individuals that share his vision for a sustainable clean energy future. With more than 3,500 customers, the company has grown organically through hard work and dedication. In 2014, the company posted $31-million in revenue.
"Daniel Sullivan has refused to let anything get in the way of accomplishing his purpose of changing the way this world generates electricity," said Erica Johnson, director of community development at Sullivan Solar Power, "Over the past six years I have watched Daniel's exemplary leadership skills grow the company through his moral values, shared vision, and commitment to employees."
Most recently, Sullivan Solar Power became the first professionally accredited solar company in San Diego and Orange County, and the fourth in the nation, through the North American Board of Certified Energy Practitioners (NABCEP). Sullivan invested more than $100,000 in his employees for training, testing and certifications. In 2014, Sullivan Solar Power also received recognition from the San Diego County Board of Supervisors, who named June 30 Sullivan Solar Power Day across San Diego County.
For more information about Sullivan Solar Power or to schedule a free site evaluation, call 1-800-SULLIVAN (1-800-785-5482) or visit http://www.sullivansolarpower.com.
About Sullivan Solar Power
Sullivan Solar Power is a turnkey solar system provider that delivers solar electric projects from concept to completion. The company has installed more than 26-million watts of solar power ranging from small-scale residential to large-scale commercial and municipal systems. Sullivan Solar Power is headquartered in San Diego, CA and owned and operated by Dan Sullivan. Sullivan Solar Power has a longstanding A-plus rating with the Better Business Bureau, with no complaints filed since the business began. The firm has been named one of the fastest growing energy companies in the nation by Inc. Magazine for three consecutive years and services all of Southern California. Regardless of project size and scope, Sullivan is committed to delivering the best products and the most qualified professionals to its customers. Visit http://www.sullivansolarpower.com for more information.
###