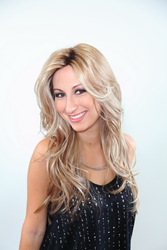 "My wig is absolutely beautiful. I wore it for the first time when my husband and I went out for a date and I felt comfortable and my husband LOVED the look so much that he has encouraged me to purchase another Godiva Secret Wig!" -Customer from CA
(PRWEB) February 05, 2015
Make Valentine's Day an extra special celebration with a new wig. Whether wigs are needed for romance, convenience, travel, career, or hair loss, Godiva's Secret Wigs has been offering their high quality realistic looking wigs for the last 17 years. Godiva's Secret Wigs is offering a special discount for Valentines Day of $20.00 off a wig purchase through February 14, 2015. The company has just recently announced that they are extending this sale through March 31st. The offer is valid in their California based stores, Woodland Hills or Thousand Oaks and on their website. Use promo code SEXY15.
Godiva's Secret Wigs has been offering their wig expertise for over 17 years. They specialize in first time wig wearers and those experiencing hair loss due to medical reasons. They have recently updated their website and added a blog that caters to those experiencing wigs for the first time. The blog addresses the fears and emotions that some experience when dealing with hair loss and also shares stories of empowerment and self confidence.
Godiva's Secret Wigs carries rooted colored wigs and monofilament wigs for a very natural, realistic look. The rooted colored wigs have a darker color at the crown area so that it looks like a root is growing into the hair which is why the wig looks so natural. The monofilament wigs are made with a material at the crown area that looks more like a realistic scalp. These realistic looking wigs would help anyone who's looking to add some spice to life, boost their self esteem, or wants the convenience of having no fuss hair everyday. Maria A. states, "Candice is very sexy hair! It gives you that va-va boom and makes you look slim. It's natural looking and very ready to put on and off. I love it and my husband loves it!." Another customer from California shares her experience of the first time she wore her Freedom wig out on a date night, "My wig is absolutely beautiful. I wore it for the first time when my husband and I went out for a date and I felt comfortable and my husband LOVED the look so much that he has encouraged me to purchase another Godiva Secret Wig!"
Whether wigs are needed for travel, romance, or medical hair loss, wigs could provide the freedom and convenience to empower someone's self confidence. Hair loss accessories such as Hats with Hair and Bangs on a Headband help with the hair loss transition and can be found on Godiva's Secret Wigs website http://www.GodivasSecretWigs.com. Godiva's Secret Wigs also has 2 locations to serve you at 22700 Ventura Blvd., Woodland Hills, CA 91364 and 2412 Thousand Oaks Blvd, Thousand Oaks, CA 91361. For additional customer assistance contact Godiva's Secret Wigs at 877-567-9447 or via email at Info(at)GodivasSecretWigs(dot)com.