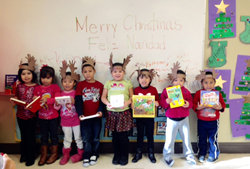 Even a reluctant reader is motivated to read a book that is his very own.
San Jose, CA (PRWEB) January 30, 2015
Thousands of children received free books this winter through the Gift of Reading book drive, a partnership between Resource Area For Teaching (RAFT) and San Jose Mercury News. The program works with hundreds of nonprofits and educators to provide students, some of whom have never had a book of their own, with tools to gain literacy skills and succeed in school.
One teacher shared that her students are always shocked when they find out the book is theirs to keep. "Being able to provide every student with a book of their own is an exciting event," she said. "Even a reluctant reader is motivated to read a book that is his very own. Being able to go to RAFT to get those books for my students is as thrilling for me as it is for the students. It also gives me an opportunity to introduce the students to a different genre and broaden their reading experience."
The Santa Clara County Office of Education's Migrant Education Program not only gave a book to each student, but also used the donations to create engaging math lessons for the children to complete at home. Having access to books at home contributes significantly to developing confident readers prepared for success in school.
Community members contributed more than 30,000 books through online donations, drop offs at partnering bookstores and libraries, and other special collections. An annual fixture of the drive is a massive collection by 1st grade students at Christa McAuliffe Elementary School in Saratoga, CA. The class led a school-wide drive and canvassed local neighborhoods to collect 3,709 books this year. Every student in the class helped load the RAFT truck with the books they excitedly gave to make sure other kids like them would have stories to read and love.