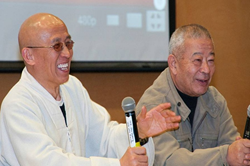 This is a very unique seminar gathering of martial arts for health and natural healing with mind-body cultivation, and promises to be an extraordinary experience for health conscious individuals and martial artists
Atlanta, GA (PRWEB) February 02, 2015
SCF (Shaolin Chan Foundation) presents the health and wellness seminars on Feb. 14th, from 9:00 AM till 11:30 AM at Shaolin Institute, 4350 Peachtree Industrial BLVD., Suite 500A, Peachtree Corners, GA 30071 (shaolin-world.net).
The legendary Wushu master, WuBin, the mentor of Chinese Wushu masters and action movie stars such as Jet Li and Donnie Yen, will conduct the main program of Wushu-Kungfu for health and wellness cultivation along with Zen Master DeRu, (Shawn Liu Xiangyang), a 31st generation disciple of the Shaolin Temple. All proceeds will go to the foundation to assist children in academic and leadership education needs.
The first part of the seminar will unveil the secret of ancient Zen natural living and healing arts apart from Zen meditation in quantum communication, stated DeRu The Zen Master who will also introduce to the public Zen-Tai-Gong for health and Qi cultivation during the seminar.
The second part of the seminar mainly features WuBin's instruction on Kungfu for health and wellness cultivation.
"This is a very unique seminar gathering of martial arts for health and natural healing with mind-body cultivation, and promises to be an extraordinary experience for health-conscious individuals and martial artists,"said one of the coordinators of the event, Mandy Ma.
DeRu will begin the seminar with an introduction and explanation of the principles of Qi (pronounced chee) and meridians in association with inner conscious and inner Qi circulation along with a few vital motions of Zen-Tai-Gong.
"Zen-Tai-Gong is about body mind communication," DeRu explained. "It is to cultivate Qi flow effectively within the body; Tai Gong is to train the mind of the cortex and minds of all the cells to work together for one mission-- to better-function of the entire organism, especially the immune system and defense system."
Zen-Tai-Gong Flex, a seminar component on meridian channeling cultivation, according to DeRu, can be applied to cultivate the Qi consciousness throughout the body to communicate with all the cells to function with ultimate efficiency and aptitude.
Kungfu for health cultivation is to applying most basic Kungfu motion mingled with mind consciousness and bodily Qi (energy) to channel and communicate the energy of the entire organism of oneself," expressed WuBin who will demonstrate some fundamental martial arts moves of that relate to body mind connection and self-cultivation with energy and blood flow to promote health and healing.
In Zen, said DeRu, "When one is in total mind and body training, one associates himself/herself to nothing; think of nothing, do pure internal Kungfu meditation which is the pure expression of the mind freedom, and freedom of Qi, and of the universe in which human beings are part. Man is, after all, the microcosm of the universe."
About Instructors and SCF
Wu Bin is the most renowned Wushu coach in China. He has produced more champions than any other coaches. Out of his many students, three stand out the most: the action movie superstar, Jet Li, International actor Donnie Yen and Asian action movie star WuJin. WuBin was rated in the top 10 Wushu Grand Masters of all China. For more than a decade, he served as the technical chairman for the Asian Wushu Federation.
DeRu (Shawn Liu) is one of two close disciples of the late spiritual leader and Great Grand Master Shi SuXi of the Shaolin Temple. Since 1995, he has been Kungfu Sanshou technical chairman of Pan America Wushu/Kung Fu Federation. DeRu was named "The Godfather of Sanshou in America" by International Kungfu Magazine and "Father of American Sanshou" by Central Chinese TV networks and other international press. He has trained numerous national and international KungFu Sanshou champions in the US. Among them are UFC fighters Patrick Barry and Cung Le.
SCF is a non-profit charitable and Zen cultural foundation to assist children in academic and leadership education needs and promote Zen freedom of the body and mind. (http://www.shaolinchan-foundation.org).