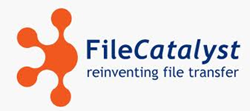 We are pleased to once again be working with FileCatalyst and their accelerated file transfer platform
Ottawa, Canada (PRWEB) January 30, 2015
Unlimi-Tech Software, Inc., an Emmy® Award winning pioneer in managed file transfers and the creator of FileCatalyst, a world leading accelerated file transfer solution, is excited to announce FileCatalyst will be the technology used by NBC Sports Group for the movement of digital content for Super Bowl XLIX in Arizona.
After deploying FileCatalyst Direct for the broadcast of the 2014 Olympic Winter Games, US Tennis Open, Kentucky Derby, and also for Sunday Night Football broadcasts, NBC Sports Group will again use this technology for its file transfer needs during the broadcast of Super Bowl XLIX, taking place February 1, 2015 in Glendale, Arizona. As one of the world's largest sporting events, the Super Bowl is frequently the most viewed television event annually in the United States. Making footage available for editing as quickly as possible is important not just for producing the television broadcast, but also for delivering content to web and mobile viewers. For the Super Bowl, NBC Sports Group will utilize "Remote Edit while Capture", which means transferring the live event video files as they are recorded, so they can be edited in near real time. The FileCatalyst technology is able to fulfill these needs and will play a significant role in making the Super Bowl footage broadcast ready.
During the week leading up to Super Bowl XLIX, FileCatalyst Direct will help NBC Sports Group to efficiently produce several highly rated programs from Glendale, Arizona. In the Phoenix area, NBC Sports will be setting up two remote production facilities. By implementing FileCatalyst acceleration technology, production teams in Glendale will be able to transfer files in close to real-time to NBC Sports headquarters in Stamford, Connecticut, over 2500 miles away.
In addition to the functionalities used throughout the NBC Sports Group workflow, the FileCatalyst API is now integrated with the Avid® MediaCentral Platform, connecting to Avid Interplay® | Delivery service. The integration between the two systems allows those stationed in Glendale as well as those located in Stamford to efficiently collaborate on media and access data archives at their respective locations, an essential part of the production infrastructure necessary for such large, live sporting events.
"It's always exciting when our technology is used for a marquee event like the Super Bowl," says Chris Bailey, CEO and co-founder of FileCatalyst, "We have a strong track record when it comes to improving production workflow efficiency for live sporting events and we're very proud of that. The integration with Avid further enhances our ability to meet the needs of broadcasters like NBC Sports Group."
"We are pleased to once again be working with FileCatalyst and their accelerated file transfer platform," said Darryl Jefferson, VP Post Operations. "During the 2014 Winter Games, the FileCatalyst platform allowed us to fully utilize our link speed for the transfer of digital content. We'll be able do the same for Super Bowl XLIX, enabling file exchange between multiple sites."
"As a leading development partner in the new Avid Connectivity Partner Program, Avid is proud to help Unlimi-Tech enable NBC Sports' ground breaking remote production workflow," said Ray Gilmartin, senior director, Broadcast & Media Segment and Product Marketing, Avid. "The team has leveraged the powerful customization customization capabilities of the Avid MediaCentral Platform to tightly integrate FileCatalyst with NBC Sport's large-scale deployment of Avid's Media Suite asset management solutions for Super Bowl XLIX coverage."
About NBC Sport Group
NBC Sports Group consists of an array of broadcast television, radio and digital sports assets, including NBC Sports, NBC Sports Network, Golf Channel, NBC Olympics, 11 NBC Sports Regional Networks, two regional news networks, NBC Sports Radio and NBCSports.com. Super Bowl XLIX airs Sunday, February 1, 2015 on NBC.
About Avid
Avid delivers the industry's most open, innovative and comprehensive media platform connecting content creation with collaboration, asset protection, distribution and consumption for the most listened to, most watched and most loved media in the world. Industry leading solutions include Pro Tools®, Media Composer®, ISIS®, Interplay®, and Sibelius®. For more information about Avid solutions and services, visit http://www.avid.com. Avid, Interplay, ISIS, Media Composer, Pro Tools and Sibelius are trademarks or registered trademarks of Avid Technology, Inc. or its subsidiaries in the United States and/or other countries. The Interplay name is used with the permission of the Interplay Entertainment Corp. which bears no responsibility for Avid products.
About Unlimi-Tech Software, Inc.
Located in Ottawa, Canada, Unlimi-Tech is the Emmy Award winning creator of FileCatalyst, a world leading accelerated file transfer solution. Founded in 2000, the company has more than one thousand customers in media & entertainment, energy & mining, gaming, and printing, including many Fortune 500 companies as well as military and government organizations. FileCatalyst is a software platform designed to accelerate and manage file transfers securely and reliably. FileCatalyst is immune to the effects that latency and packet loss have on traditional file transfer methods like FTP, HTTP, or CIFS. Global organizations use FileCatalyst to solve issues related to file transfer, including content distribution, file sharing, and offsite backups. To learn more visit http://filecatalyst.com or on Twitter @FileCatalyst.