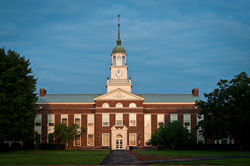 Bucknell's national reputation is growing.
Lewisburg, Pa. (PRWEB) January 30, 2015
Bucknell University dared prospective students to rise to the challenge, and they did — applying in record numbers for admission to the Class of 2019. As of Jan. 27, the University had recorded 10,925 applications, marking an all-time high in Bucknell's 169-year history. The milestone represents a nearly 39-percent increase over last year's number of applications and exceeds the previous record set in 2006 by more than 1,800.
"This is a powerful affirmation of the great work that we do," said President John Bravman. "As more prospective students learn about the transformative educational experience offered here, they realize how Bucknell can set them on a path to great professional success, personal fulfillment and meaningful citizenship."
Vice President for Enrollment Management Bill Conley said the increase is "foremost a sign that Bucknell's national reputation is growing."
"More people across the country and internationally are hearing about Bucknell's high retention and graduation rates, small class sizes, numerous undergraduate research opportunities, notable alumni achievements and distinguished academic programs," he said. "They recognize that we offer the high-quality, valuable education that families want for their students."
Conley said the University intentionally expanded the prospective student pool to reach more students both nationally and internationally, including in states outside of the Northeast and mid-Atlantic U.S. regions, from which the majority of students have traditionally come. "We contacted many more students than we have in the past, including those on the West Coast and in the Midwest and South, to tell them who we are and what we do," he said.
The University also "removed friction" from the application process by eliminating an essay question and reducing the application fee from $60 to $40. Bucknell uses the Common Application, which includes a required 650-word essay. In previous years, said Conley, Bucknell's application had also included a supplemental 500-word essay, but the University found that this additional essay did not provide any extra insights about an applicant's qualifications or potential to succeed. The lower application fee was established to be more in line with public university fees and ease financial concerns applicants may have, he said. A fee waiver is also available for those who need one.
According to Dean of Admissions Robert Springall, the proportional growth of the applicant pool increases the University's ability to shape a talented and diverse class of students. "We will continue to admit students with interests across the disciplines and from a range of backgrounds and experiences," he said. Most importantly, he noted, Class of 2019 applicants appear to be academically on par with those in previous years. He said the University aims to enroll a class of 940, the same size as the Class of 2018.
"The admissions staff did a great job in building relationships with high schools and community partners, enhancing open houses and conveying the value of a Bucknell education to thousands of campus visitors," said Springall. The University also refined its recruitment communications with edgier and more personalized messaging and launched a new website with a responsive design easily navigable on mobile devices. Springall said in a time when many families are concerned about costs, Bucknell's grant and scholarship packages averaging $31,500, along with its average student loan debt upon graduation of $22,500 and low loan-default rate, help families understand that a Bucknell education can be within reach.
Springall and Conley expect the applicant pool to expand even more in the next few years. "The number of inquiries from prospective students for the Class of 2020 is currently up 140 percent over last year," said Springall. "But this is not the time to rest. We still have a lot of work to do in spreading the word about Bucknell's great programs and outcomes to talented high school students and their families."