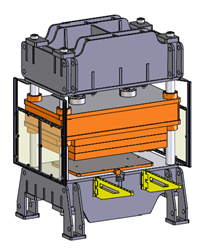 The team at Beckwood is proud to offer such a diverse set of forming technologies, which allows us to cater to a wide variety of our customers' forming challenges. Jeff Debus, Beckwood President
St. Louis, MO (PRWEB) January 30, 2015
Beckwood Press Company, a manufacturer of configurable hydraulic press systems, engineered to the specific needs of each user, has been contracted to supply a hydraulic rubber pad forming press to a US-based sheet metal fabricating services provider. The buyer of the 400 ton press system will leverage the press' capabilities to form a variety of sheet metal parts which are ultimately used in the aerospace, medical device, electronics and transportation industries, among others.
Scheduled for completion in June, the 400 ton custom-configured press system will feature an integrated bed shuttle to facilitate part loading & unloading. The heavy-duty four-post design boasts a forming area of 38" x 60" with a total pad thickness of 15" for forming on up to 5" tall form blocks. The press also features Beckwood's standard PressLink Remote Connect Module, which includes complimentary remote support via a standard web connection, and which is included on every Beckwood-manufactured press system.
"While many of our customers have chosen the high-performance forming capabilities of our Triform Sheet Hydroforming products, there is definitely still a place in many facilities for traditional solid-block rubber pad forming presses," said Beckwood President, Jeffrey Debus. "The team at Beckwood is proud to offer such a diverse set of forming technologies, which allows us to cater to a wide variety of our customers' forming challenges. From our pad forming and other hydraulic press solutions, to Beckwood's Triform line of sheet hydroforming presses, stretch forming solutions and hot joggle presses, we have a solution for almost every forming need."
Conforming to Beckwood's standards for component quality, the press system will feature top of the line components from leaders in the industry, including Parker cylinders and a programmable, Allen Bradley-based control system.
About Beckwood Press Company
The Beckwood Press Company is a leading supplier of advanced manufacturing systems, including hydraulic presses, located in St. Louis, MO. Beckwood offers quality, configurable hydraulic presses which are designed to the specific application needs of each customer. New hot forming / SPF press technology, on-board pre-preventive maintenance features (PPM) and integrated barcode scanning capability will help you work smarter & more efficiently. Beckwood also manufactures the Triform line of aerospace-forming products, which includes Sheet Hydroforming Presses and Sheet & Extrusion Stretch Forming Presses, as well as Hydraulic Ring Expanders and Hot Joggle Presses. Get the latest news from Beckwood at http://www.beckwoodpress.com/news.