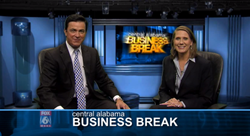 "And now leaders have to really focus on mid-level leading and being able to develop leaders at those levels" - Nancy Covert
Birmingham, AL (PRWEB) January 31, 2015
Dale Carnegie of Birmingham, Alabama's Nancy Covert is being featured on Fox News Good Day Alabama. The Central Alabama Business Break segment highlights an interview with Covert where she discusses current issues business leaders face and changes in leadership development.
During the segment, Nancy discusses the important issue of managing four generations in the workforce. For the first time, business leaders are faced with managing across a very diverse group of employees which now includes millennials. In addition to the age barrier comes the difficult task of keeping virtual employees engaged, a new issue that has arisen with the changing corporate culture emerging in recent years.
Covert also discusses the recent changes in leadership development and what it means for companies of all sizes. "Traditionally, leadership development has revolved around training brand new employees or new leaders as well as executive leaders," says Nancy. "And now leaders have to really focus on mid-level leading and being able to develop leaders at those levels," she continues. This shift allows businesses to prepare employees to work across silos and break down communication barriers.
Another shift in business development centers around the difference between change management and change readiness. In the past, leaders have invested in learning to manage change. Today's paradigm shift brings into focus the need for change readiness, preparing businesses to be able to be proactive instead of reactive to change. "Now managers have to be able to create change," says Covert. She focuses on the importance of innovation and driving change rather than reacting to change when the need becomes apparent.
Lastly, Covert tackles the important issue of leading a virtual office, focusing on the need for an entirely new skills set for managers in this capacity. The topic of Employee Engagement takes on new meaning when dealing with a diverse team who are not able to work in close proximity to one another. Keeping virtual employees engaged and feeling important is a challenge for managers who don't have the opportunity to sit across the table from their employees every day.
The segment will air on Fox February 3, 2015 at 7:42AM CST. For more information on these important topics, visit http://www.birmingham.dalecarnegie.com or contact Nancy Covert directly at 256-679-8747. Click here http://youtu.be/C1KhBn1vrZ0 to watch the segment now.