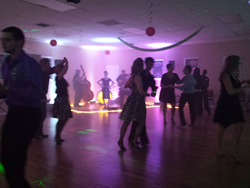 St.Louis, Missouri (PRWEB) February 02, 2015
Dance Pizazz shares 3 fun facts about dancing that most people don't know.
Dance Pizazz the St.Louis area's happiest, friendliest place wants to share 3 fun facts about dancing that most people don't know.
Dancing is a fun energetic hobby that has been popular for thousands of years. With so much history there is a vast array of calamity and inspiration in the form of pretty amazing stories.
Fact 1: Most people recognize the rapper Tupac Shakur for his legendary rapping in the late 80's and early 90's. His well-known assassination also catches most people's attention. What most people don't know about Tupac Shakur is that he was a ballet dancer. He was a member of the 127th street ensemble, which is a Harlem based theater company.
Fact 2: There was a plague in which the only symptom was sustained dancing for days on end. The plague is referred to as the Dancing Plague of 1518. The plague started when a woman, Frau Troffea, began to dance in the streets of Strausbourg. She danced for 4 to 6 days without stopping, and gained the attention of other dancers who joined her. This was only the beginning of a dancing frenzy that began killing dozens of citizen's from exhaustion, heart attack, and stroke.
Fact 3: In 2008 the world's first sustainable energy dance floor was created. A sustainable energy dance floor creates energy from floor panels being compressed under the weight of dancers. These compressed panels turn the mechanical energy into energy. This revolutionary dance floor resides in Rotterdam, Sweden in Club Watt. The clubs lights are entirely run from dancers taking to the floor.
Dance Pizazz prides it's self on knowledge and the ability to both teach people both facts about dance movement and history. Find more interesting facts about dancing by visiting http://www.dance-pizazz.com.