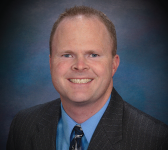 "I have always felt that to be a true professional, you need to embrace the fact that you'll be a student for the rest of your life." Matt admits, "That is what keeps things interesting."
Minneapolis, Minnesota (PRWEB) January 31, 2015
According to the U.S. Department of Education's National Center for Education Statistics, demand for continuing education for adults age 35 and older is projected to grow by 7 percent within the next year. Continuing education can provide a number of benefits for both employees and employers, such as allowing an employee an outlet to develop the new skills and knowledge necessary for personal and professional growth, providing an environment in which outstanding efforts to improve oneself are both encouraged and rewarded, or setting a business apart from competition by having employees who display a passion for learning more from their industry.
Matt Lee, Executive Brokerage Consultant with Secura Consultants, recently acquired his Disability Income Associate (DIA) designation to further his expertise in the income protection field. A DIA designation is for insurance and health care professionals, as well as financial planners who seek to increase awareness of the risks and cost associated with disability.
Earning this designation was only one stop on Matt's journey with Secura Consultants. Matt started at Secura Consultants in early November of 2014 with big dreams; he envisioned his role developing into one that would involve more point of sales and joint work with advisors to be brought in as an income protection expert. By obtaining his DIA designation, Matt helps solidify his expertise with concrete evidence of his dedication to the income protection industry.
"I have always felt that to be a true professional, you need to embrace the fact that you'll be a student for the rest of your life." Matt admits, "That is what keeps things interesting."
That student philosophy is what pushes Matt forward, using his 16 years of financial service industry experience to assist advisors in understanding the income protection needs of their clients. He understand the unique perspective he brings as a consultant and seeks to partner with advisors as a reliable extension of their office who can be counted on to ensure their client's unique income protection needs are being fully met.
Secura Consultants continues to push the income protection industry forward by providing exemplary income protection education solution to elite financial professionals across the United States. To learn about their efforts and how your business could benefit, contact Matt Lee, Executive Brokerage Consultant, at matt(at)securaconsultants(dot)com or call at (952) 641-5218.