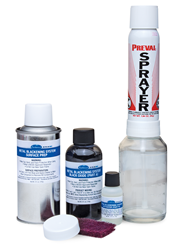 Eastwood's new Metal Blackening System provides a much more durable finish, that retains the OEM look and feel, which is important on a correct restoration
Pottstown, PA (PRWEB) January 31, 2015
The Eastwood Company, innovators of do-it-yourself automotive restoration tools and supplies, has just introduced a new 2-component Metal Blackening System that replicates the OEM black oxide/phosphate commonly used on bolts and other automotive fasteners. Eastwood's new system offers the same look and feel, but with more durability over the original finish. This system offers a finish that protects against rust and corrosion, and is heat resistant to 500F. Application is easy with the included Preval Sprayer; no special tools or equipment are required to apply this finish.
OEM black oxide finishes were done with chemical baths and heat cures. The new Eastwood Metal Blackening System eliminates the need for a heat cure allowing anyone to tackle this process. This blackening system works on steel, iron, stainless, and aluminum. "We've seen a lot of great restorations that have had corrosion coming through the original black oxide used on fasteners and brackets" commented Nick Capinski, Eastwood Content & Engagement Manager. "Eastwood's new Metal Blackening System provides a much more durable finish, that retains the OEM look and feel, which is important on a correct restoration." Eastwood's system is impervious to gasoline and DOT 3 brake fluid. A kit will cover 6 square feet.
Eastwood markets unique tools and supplies for repair, restoration, and modification of cars, trucks and motorcycles, as well as for home and garage DIYers. Founded in 1978, Eastwood strives to develop new products to serve the home automotive hobbyist, as well as individuals and organizations focused on the restoration and customization of automobiles and motorcycles. For more information or for hi-res photos, please contact Nick Capinski at ncapinski(AT)eastwood,com or (610) 705-5404.