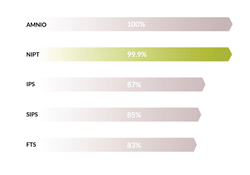 We are one of the few fertility clinics in BC that actually have a genetic counsellor in-house as part of our team
Vancouver, BC (PRWEB) February 02, 2015
Olive Fertility Centre is pleased to announce that Rachel Butler-a board certified genetic counsellor-is on site at Olive. She currently provides genetic counselling for Olive Fertility patients considering genetic testing procedures like comprehensive chromosome screening (CCS), preimplantation genetic screening (PGD) or the new non-invasive prenatal testing (NIPT).
"We are one of the few fertility clinics in BC that actually have a genetic counsellor in-house as part of our team," explains Dr Beth Taylor, medical director and head of the NIPT program at Olive Fertility Centre.
With so many women getting pregnant in their late 30's to early 40's, when the chance of chromosome (packages of DNA) anomalies substantially increases, more and more women are undergoing prenatal testing to determine the health of their child. But with the growing number of tests available, it is becoming increasingly confusing for women (and health care professionals) to select the most appropriate test.
Until very recently, women had to rely on a combination of blood tests and ultrasounds--each with their own pros and cons--to provide information about the health of the baby.
NIPT offers women a safe, accurate test as early as 10 weeks in the pregnancy. "This is the test that we've been waiting for" says Dr Taylor. "What makes this test different from the most commonly used early prenatal testing is that it can actually test the DNA (genetic material) of the developing fetus by taking a simple blood sample from the mom."
This means that it is much more accurate than current early screening tests (99% accurate compared to 83-87% accuracy of other early tests) for certain conditions like Down syndrome and does not have the high rate of false positives and negatives. And unlike amniocentesis, NIPT it is non-invasive and has no risk to the pregnancy.
However, a recent article published by the New England Center for Investigative Reporting (http://features.necir.org/prenatal-testing*) , reveals that some women may have had an unnecessary abortion based on the results of NIPT and emphasize the need for better education and counselling. The article points out that even some doctors do not realize the limitations of the test.
"We need to help patients understand the purpose of NIPT and what their options or next steps may be," says Dr Taylor. "That is why we are so delighted to have Rachel at Olive."
Rachel Butler stresses that while NIPT is a real breakthrough technology and can give women accurate information early in their pregnancy, "Women should understand that NIPT is a screening procedure, NOT a diagnostic one. If a result comes back positive, there is still a chance that the baby is healthy and therefore, a diagnostic test such as an amniocentesis is offered. "
WHAT DOES NIPT SCREEN FOR?
NIPT measures the baby's genetic material (which is floating in the mother's blood) to look for too few or too many copies of certain chromosomes. When a baby has three copies of a chromosome instead of the usual two, this is called a trisomy. The most common type of trisomy is Down syndrome
HOW DOES NIPT ACCURACY COMPARE TO OTHER PRENATAL SCREENING TESTS?
"Many women I talk to wonder if they should have prenatal testing." says Butler. "Before embarking on the process, I ask them to make sure that they know what the test they are having can and can not test for, and to think about what they would do with that information. In most cases NIPT is a very reassuring test because the great majority of women who have the test will have a normal result."
WHERE IS NIPT AVAILABLE IN BC?
Women who are considered high risk can get NIPT with genetic counselling through BC Women's Hospital.
Olive Fertility Centre offers NIPT with genetic counselling for both high and low risk women.
Some family physicians also offer NIPT but do not include genetic counselling.
Rachel Butler, BSc, MSc, CGC, CCGC is both Canadian and American Board Certified and is currently a Clinical Instructor at UBC. She has completed a 4-year term on the Canadian Genetic Counselling Certification Committee and was also editor of the Canadian Genetic Counselling newsletter.
Olive Fertility Centre, http://www.olivefertility.com, is one of Canada's largest fertility clinics, offering an advanced IVF lab, personal care teams and innovative programs that include the EmbryoScope, comprehensive chromosome screening (CCS), egg freezing, and prenatal NIPT testing.
For more information contact Mairi Campbell mairi.campbell(at)personae(dot)ca , ph 778-885-5300
*It isn't a medical journal but a report from the New England Journal of Investigative Reporting: Beth Dailey, Have New Prenatal Tests Been Dangerously Oversold? New England Journal of Investigative Reporting, Dec 14, 2014. http://features.necir.org/prenatal-testing