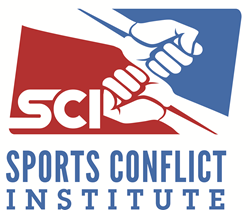 Tom has the right combination of experience to help SCI meet its current operational needs and plan for continued growth in the future
Portland, OR (PRWEB) January 31, 2015
The Sports Conflict Institute welcomes the addition of Tom Szumita, MBA to the position of Finance Director. Szumita comes to SCI as an accounting and finance professional with 20 years of business operations experience. He has worked extensively in college athletics, investment banking and higher education financial administration where he identified operational inefficiencies, implemented process improvements, and established more effective controls.
"I am excited at the idea of taking all that I have learned and getting the opportunity to build an infrastructure from the ground up," says Szumita. "I hope to be able to build an infrastructure that will allow SCI's practitioners and team members to focus on what they do best, rather than worrying about business process details."
"Tom has the right combination of experience to help SCI meet its current operational needs and plan for continued growth in the future," said SCI Founder Joshua Gordon. "We are very glad to have him join the SCI team."
Previously, Szumita served as a Financial Analyst for the University of Oregon and Harvard University, and as a Senior Accounting Analyst at Fidelity Investments. He earned a Bachelor of Science in Sport Management from the University of Massachusetts, an MBA from Marshall University, and a Master of Accountancy from Saint Joseph's College. Prior to his finance career, Szumita was a competitive collegiate distance runner at the University of Massachusetts Amherst.
Szumita's approach to building business infrastructure involves balancing an organization's present needs with its projected future needs.
"The big challenge is establish and infrastructure that will support growth," Szumita said. "Too often organizations set up business processes to accommodate current needs, and then have to make major changes as it grows. Doing so can create confusion and frustration for users."
He has witnessed how effective communication of financial procedures can help businesses at every level succeed.
"I truly believe that established and well communicated processes make life easier for everybody," Szumita said. "All parties involved are better informed, have fewer questions and, as a result, are much happier."
Read more about Tom Szumita at: http://sportsconflict.org/team_member/tom-szumita/
About SCI
SCI supports competitive goals in athletics through understanding, preventing, and resolving destructive conflict both inside and outside the lines. SCI serves as a knowledge center and provides a range of services to help ensure student-athlete experience is part of a healthy university culture while optimizing performance on and off the field of play. Conflict is inevitable, but how we respond determines whether success follows or costs mount. SCI Founder Joshua Gordon has over 20 years of conflict management experience.