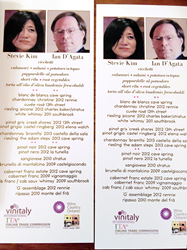 I have long thought that Ontario's wines are also world class. So it made sense to pair together wines made with similar grapes from the two countries, matching them to typical Italian dishes
Toronto, Canada (PRWEB) January 31, 2015
Vinitaly's novel way to enter Canada was a bit like through the back door, a dinner featuring Ontario and Italian wines at Grano Restaurant, for 29 years Toronto's best Italian trattoria and a hot spot for the city's wine cognoscenti, fashionistas, politicians and power brokers.
Owner Roberto Dante Martella, a true force of nature and born showman, led the evening by explaining that this was Vinitaly's first foray into Canada and encouraged more events might be held in Toronto in the future.
"An Italian restaurateur's life is always thrilling dealing with a dazzling array of indigenous grape varieties and their wines coupled with an incredibly rich selection of DOP food products" states Mr Martello. "I was particularly overjoyed to host Stevie Kim, Managing Director of Vinitaly International, Ian D'Agata, and the President of Veronafiere, Ettore Riello, with the theme of showcasing grape varieties common to both Italian and Canadian vineyards over an Italian dinner. Ian has been a frequent visitor and most recently launched his book, Native Wine Grapes of Italy".
Later in the evening, both Ian D'Agata of VIA (Vinitaly International Academy) and Magdalena Kaiser of Wine Country Ontario got up to talk about the wines paired with Grano's Italian food courses. Just as at the Executive Wine Seminar to be held the following day as part of Vinitaly International Academy, Ontario and Italian wines made from similar varieties were poured in pairs: Riesling, Pinot Grigio and Pinot Nero wines were greatly appreciated by many attendees.
A number of well known Canadian winemakers and winery owners were also on hand and enthused about the opportunity to taste Italian wines side by side with their own. Peter Gamble, one of Canada's best-known winemaker's consultants, approved Vinitaly for the opportunity to showcase their wines alongside the best of Italy's produce. Charles Baker, Director of marketing and sales at Stratus winery and an outstanding Riesling producer in his own right, Ann Sperling, winemaker at Southbrook winery, Graham Rennie owner of Rennie winery and Jean Pierre Colaas, winemaker at 13th Street winery, also commented about their wines but, more importantly, offered their personal tales in the winemaking world.
A 13th Street Pinot Gris 2010 poured from magnum at meal's end was a standout, as were the Closson Chase Christina Chardonnay 2012, and the Bramito del Cervo from the Antinori owned Castello della Sala in Umbria.
"I really believe that Italy, a recognized leader in world class wine production and the historical birthplace of fine wines, has a role to play in sharing information and helping emerging wine producing countries" explains Ian D'Agata "and nobody better than Vinitaly and VIA can lead by example and bring different winemaking countries together at the same table and revel in each other's wonderful wines thanks to the many passionate and talented winemakers, viticulturists and owners out there."
D'Agata also praised Ontario wine quality: "Clearly, Italy's wines have long been thought of as some of the very best in the world, but I have long thought that Ontario's wines are also world class. So it made sense to pair together wines made with similar grapes from the two countries, matching them to typical Italian dishes such as fried calamari and tagliatelle in tomato sauce."
The dinner showed just how food friendly Italian and Ontario wines are. Ontario Pinot Gris has improved by significantly over the last five years and what used to be wines that lacked depth and complexity are now starting to show real breed and class, approaching the range of aromas and flavors found in Italy's best pinot grigios. They are not better or worse than Italy's, but different, and everyone benefits: wine lovers everywhere benefit from having different styles of wines to choose between, and producers can learn from each other's viticulture and winemaking techniques. After all, the beauty of wine, besides the fact it tastes great, is that it offers a wonderful chance for cultures to meet and exchange information and experiences and Vinitaly International seems now more convinced about putting its feet into Canada but, more importantly, about formulating different ways to promote Italian Wines.
About:
Veronafiere is the leading organizer of trade shows in Italy including Vinitaly (http://www.vinitaly.com), the largest wine and spirits fair in the world. During its 48th edition Vinitaly counted some 155.000 visitors and 4.000 exhibitors on a 100.000 square meter area. The next edition of the fair will take place on 22 – 25 March 2015. The premier event to Vinitaly, OperaWine (http://www.vinitalyinternational.com) "Finest Italian Wines: 100 Great Producers," will unite international wine professionals on March 21st 2015 in the heart of Verona, offering them the unique opportunity to discover and taste the 100 best Italian wines, as selected by Wine Spectator. Since 1998 Vinitaly International travels to several countries such as Russia, China, USA and Hong Kong. In February 2014 Vinitaly International launched an educational project, the Vinitaly International Academy (VIA) with the aim of divulging and broadcasting the excellence and diversity of Italian wine around the globe. VIA is now ready to present the first edition of its VIA Certification Course to be held in Verona from the 16th to the 20th of March 2015 with the aim of creating new Ambassadors of Italian Wine in the World.