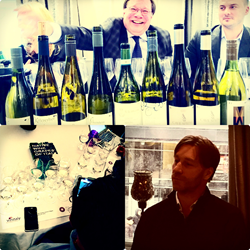 I was most impressed by the highly professional group of sommeliers and journalists that attended the five different sessions of guided tastings
Toronto, Canada (PRWEB) February 02, 2015
The "first time" for Vinitaly in Canada as Vinitaly International Academy (VIA), featured a day of Executive Wine Seminars presented, in partnership with Wine Country Ontario, to a full house of Canadian wine journalists, professional sommeliers, wine buyers and educators.
Stevie Kim, Vinitaly International's Managing Director, was initially sceptical about going into this new way of parallel tasting of Ontarian and Italian Wines, but thought it was also a good idea to address the crowd and illustrate what Vinitaly and Vinitaly International are all about, as well as Vinitaly's lead role in organizing the wine pavilion "A taste of Italy" at this year's Expo in Milan. In the end, Kim seemed quite satisfied, " I was most impressed by the highly professional group of sommeliers and journalists that attended the five different sessions of guided tastings led by Ian D'Agata and three of Canada's most respected sommeliers, two of them Master Sommeliers: John Szabo MS was joined by Will Predhomme and Bruce Wallner MS (the latter also owner of the Sommelier Factory, the site of the event). The tasting featured, for the very first time, both Italian and Ontario wines made with the same grape varieties. Many of the attendees were also interested in enrolling in our Italian Wine Ambassador program for next year. "
"To have internationally admired wine authority Ian D'Agata, peerlessly knowledgeable about Italian wines and also well-versed in Ontario wines, join us in Toronto for a friendly Italian-Canadian wine summit was a tremendous learning opportunity for local media and sommeliers. We explored in depth the similarities and differences in wines from the cool climates of Ontario and Northern Italy, and everyone came out richer for the experience. Kudos to Vinitaly for the initiative, showing how collaborative education benefits all involved," said John Szabo, who was the first Canadian to add the "MS" title to his name back in 2004.
Magdalena Kaiser, Director of PR for Wine Country Ontario, also expressed her enthusiasm for the outcome of the event: ""It was an intensive tasting and long day but we were able to gather together an excellent group of both media and top sommeliers from Toronto and have them share their time with us. Without a doubt, Ian was a big draw along with the other panellists. Ian's passion for both Ontario and Italy is contagious but it was a compliment to us all that they stayed for 5 hours for this tasting.
"I think that many were perplexed at how we might present Ontario and Italian wines together," she went on to explain, "yet since the tasting, we continue to receive many compliments on the session. The wines were tasted blind and it was not always obvious as to which wine was Ontario and which Italian, allowing us to challenge ourselves and learn more about these cool climate wines. It's always exciting to have our wines tasted."
From 10AM to 4PM on Thursday, January 29, Italian Riesling, Chardonnay, Pinot Grigio and Pinot Nero wines were tasted in comparison with similar Ontario wines. Another couple of sessions featured mixed white and red grapes giving space also to more regional and specific wines: Italian Pecorino, Pinot Bianco and "appassimento" wines, as well as Ontario Lemberger, Gamay, and Gewürztraminers met with considerable audience acclaim.
"Clearly, the Riesling flight was the show-stealer," said Ian D'Agata, Scientific Director of VIA. "Canada, and Ontario in particular, makes world class Riesling wines and it was wonderful to see how well the Italian versions stacked up, considering that Riesling wines in Italy made with the authentic Rhineriesling variety have become common only in the last decade. Most people don't realize that back in the 1970s and 80s, when you read the word 'Riesling' on an Italian wine label, it was mostly, if not all, made with Riesling Italico, also known as Welschriesling, a completely different variety."
Vinitaly International continues to opt for alternative ways of educating Italian Wines abroad in lieu of the traditional walk around tasting and the first debut in Toronto aggregated a solid group of top sommeliers who proved to have a more engaging role in Canada than some other parts of the world.
About:
Veronafiere is the leading organizer of trade shows in Italy including Vinitaly (http://www.vinitaly.com), the largest wine and spirits fair in the world. During its 48th edition Vinitaly counted some 155.000 visitors and 4.000 exhibitors on a 100.000 square meter area. The next edition of the fair will take place on 22 – 25 March 2015. The premier event to Vinitaly, OperaWine (http://www.vinitalyinternational.com) "Finest Italian Wines: 100 Great Producers," will unite international wine professionals on March 21st 2015 in the heart of Verona, offering them the unique opportunity to discover and taste the 100 best Italian wines, as selected by Wine Spectator. Since 1998 Vinitaly International travels to several countries such as Russia, China, USA and Hong Kong. In February 2014 Vinitaly International launched an educational project, the Vinitaly International Academy (VIA) with the aim of divulging and broadcasting the excellence and diversity of Italian wine around the globe. VIA is now ready to present the first edition of its VIA Certification Course to be held in Verona from the 16th to the 20th of March 2015 with the aim of creating new Ambassadors of Italian Wine in the World.