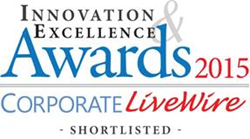 "Our focus is in providing retailers, etailers, catalogers, fulfillment and distribution firms with best-in-class inventory, order, and customer management software solutions that help them increase sales and grow their business."
Parsippany, NJ (PRWEB) February 03, 2015
Dydacomp, the leading provider of inventory and order management solutions to growing small and mid-sized retailers and etailers, today announced that Corporate LiveWire has shortlisted Dydacomp for its "2015 Innovation & Excellence" awards. The Innovation & Excellence Awards is an international awards program in recognition of large organizations, SME's and entrepreneurial success. Dydacomp's industry-leading Multichannel Order Manager (M.O.M.) and innovative Freestyle Commerce cloud-based inventory and order management systems make it a recognized leader in the industry.
Corporate LiveWire provides business professionals and individuals in the corporate finance sector with information on the latest news and developments from around the globe. The resource offers regular up to date content on an array of subject areas such as corporate transactions, international markets, business strategy and changes in legislation. New for 2015 the Innovation & Excellence awards have evolved into their own entity from the established Corporate LiveWire Business Awards. Celebrating & rewarding innovation & excellence they will recognize individuals, teams and organizations no matter of size or location.
Over the last 12 months Corporate LiveWire has invited and encouraged their corporate subscriber base to cast their vote on firms, teams and individuals who they believe to be industry experts. Additionally Corporate LiveWire's extensive research team has put forward a selection of individuals who have excelled within their sector. Through this process, Dydacomp has been shortlisted as a potential winner in the 2015 Innovation & Excellence awards. Winners will be announced in February.
Dydacomp's inventory and order management solutions complement the company's eCommerce platform and other sales channels such as Amazon. They provide insights on the client's product performance, and peak selling periods with fully integrated shipping functionality and built-in supplier management.
"We are honored to be shortlisted by LiveWire for the 2015 Innovation & Excellence Awards," states Fred Lizza, CEO of Dydacomp. "Our focus is in providing retailers, etailers, catalogers, fulfillment and distribution firms with best-in-class inventory, order, and customer management software solutions that help them increase sales and grow their business."
To learn more about our solutions, please visit http://www.dydacomp.com or call 1.800.858.3666 ext. 259.
About Dydacomp
Dydacomp solves the business automation and order management needs of small to medium-sized (SMB) retail and fulfillment businesses. Dydacomp's latest innovation, Freestyle Commerce, is the next-generation, cloud-based inventory and order management solution. Dydacomp provides SMB retailers with a choice in order management solutions, in the cloud or on premise, to meet business needs. Over 2,000 multi-channel retailers rely on Dydacomp's Freestyle Commerce, Multichannel Order Manager (M.O.M.) and SiteLINK solutions to automate their back office operations and drive business growth. Dydacomp's clients engage over a million shoppers daily, generating nearly $10 million in gross merchandise sales every day. For more information, visit dydacomp.com and freestylecommerce.com and follow us on Twitter @dydacomp.