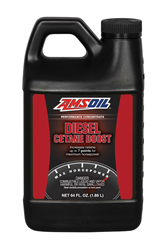 (PRWEB) February 02, 2015
AMSOIL has launched a new package option for its Diesel Cetane Boost. The half-gallon size is convenient for users who have to treat over 100 gallons at a time. AMSOIL Diesel Cetane Boost raises the cetane number of diesel fuel up to seven points for maximum horsepower, increased fuel economy and easier starts in all diesel engines. The product contributes to smoother engine operation with reduced smoke and emissions.
Diesel engines operate best on fuel with cetane values of 50 or higher. Most diesel fuel sold in North America has a cetane value of 40-45. Unlike all-in-one fuel additives that may sacrifice performance in specific areas in the name of convenience, AMSOIL Diesel Cetane Boost makes no sacrifices; it is purpose-built for diesel owners who demand maximum results.
AMSOIL Diesel Cetane Boost is recommended for use in all types of heavy- and light-duty, on –and off-road and marine diesel engines, especially over-the-road trucks, inner-city delivery vehicles and refuse carriers. It can be used with each tank of fuel and is excellent for use with ultra-low-sulfur diesel fuel (ULSD).
About the Company: AMSOIL has been the recognized leader in synthetic lubrication since 1972. For more information about AMSOIL diesel fuel additives contact your nearest AMSOIL distributor, or call AMSOIL at (715) 392-7101 or 1-800-777-8491. AMSOIL INC., 925 Tower Avenue, Superior, WI 54880, or go to http://www.amsoil.com.
High-res photo available upon request.
News Contact:
Ed Newman
Advertising Manager
enewman(at)amsoil(dot)com
715-392-7101