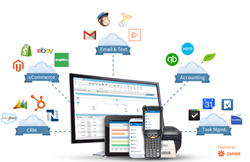 People are using BarCloud and Gmail everyday, so we enabled them to easily coordinate actions between the web apps and ultimately be more productive
San Jose, California (PRWEB) February 03, 2015
BarCloud, a leading cloud inventory management system, today showcased a new integration option for users to automate workflow tasks involving email messaging. Within a few minutes, non-technical users can set up the integration points between the online applications to automatically trigger the sending of custom emails.
"Our users have spoken. A large portion of them are using BarCloud and Gmail everyday, so we enabled them to easily coordinate actions between the web apps and ultimately be more productive," said Greg Wachowiak, Senior VP of Engineering at ASAP Systems.
Users save time by no longer needing to repetitively search for data in BarCloud and then leave the system to manually enter it in emails. Thanks to the BarCloud engineering team and the Zapier web automation platform, connecting the barcode inventory system or asset tracking solution with an email app only takes a few minutes, and the process only needs to be done once.
With the added ability to automatically send emails based on asset activity, such as receive, checkout or move transactions, teams receive critical reminders throughout the day and thus increase asset control. This is especially valuable for teams with particularly high-valued assets that need to be carefully monitored, or with numerous assets checked out at once.
Organizations can now manage stock inventory more efficiently with a convenient alert functionality performed through integrated email services such as Gmail and Microsoft Outlook. For example, when a new sales order has been entered into the BarCloud database or if stock inventory levels hit a minimum or maximum threshold, an email containing this data is dynamically populated and sent without any effort on behalf of the user.
To see how to connect BarCloud and an email application click here.
About BarCloud
BarCloud is a market leading online inventory management and asset tracking system enabled by barcodes, smartphones, and tablets. It helps improve profitability by eliminating manual data entry, paper files, and forms and by automating record keeping. With our online inventory and asset system, businesses know 24/7 how and where assets and inventory are received, stored, used, and disposed of. Tracking capabilities extend beyond the office and into the warehouse or field.