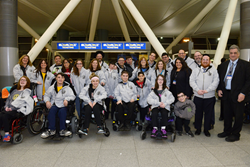 New York, NY (PRWEB) February 04, 2015
EL AL Israel Airlines recently flew 14 children to Israel as part of Chai Lifeline's "Wish at the Wall" program. Chai Lifeline, a non-profit organization that provides emotional, social and financial support to families with children who have cancer and other life-threatening or chronic illnesses, has for decades been a partner with EL AL Israel Airlines.
Departing from John K. Kennedy International Airport, the special needs children are traveling with their parents to fulfill the dream of visiting Israel and touring the country's most celebrated destinations, from Eilat to Rosh HaNikra. Specially trained EL AL reservations agents working on the medical desk and airport managers offer maximum assistance to provide these children with a smooth travel experience, despite their medical conditions.
Nachman Maimon, Chai Lifeline Program Director stated, "The EL AL staff continues to provide personalized service, which makes it possible for the children to take a trip that most never dreamed they could manage. Regardless of any challenge, the airline's staff are devoted to ensuring that the children are comfortable and happy by providing warmth, smiles, and outstanding care both on the ground and throughout the flight."
In 2011, this program made history when it became the first teen tour composed of chronically ill and disabled children. In 2013, before taking off, an EL AL plane turned back to retrieve an 11-year-old cancer patient who was heading to Chai Lifeline's Camp Simcha and missed the flight because she mistakenly thought her passport was lost.
About EL AL Israel Airlines:
Celebrating more than 65 years of service, EL AL, Israel's national airline, offers the most nonstop flights between New York (JFK/Newark) and Israel as well as the only nonstop service from Los Angeles. As of June 2015, EL AL launches the only nonstop flights between Boston and Tel Aviv. Only EL AL has first class service on nonstop flights between the U.S.A. and Israel. EL AL flies to more than 35 destinations from Israel and serves dozens of other destinations throughout the world (including the USA) via partnerships with many other leading carriers. The airline has annual revenues of about $2 billion and carries 3.6 million passengers every year.
EL AL embodies Israel's values of innovation and the promise of a genuine Israeli welcome.
EL AL. It's not just an airline. It's Israel.