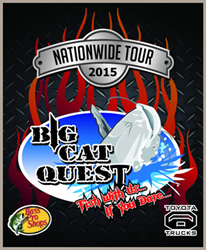 Henderson, KY (PRWEB) February 05, 2015
The Henderson County Tourist Commission is pleased to announce Henderson will be hosting the Big Cat Quest catfishing tournament on June 13, 2015.
Organized by Ken Freeman, the Big Cat Quest is a catch and release tournament that stresses sportsmanship, courtesy, safety and conservation.
Henderson's portion of the Ohio River was named #1 Catfishing River by fishhound.com in 2013.
Entry forms and a copy of the rules and regulations can be downloaded at http://www.bigcatquest.com. For questions regarding the event call 731-234-1888.
For information on Henderson County, including hotel accommodations, visit http://www.hendersonky.org or call 270-826-3128.