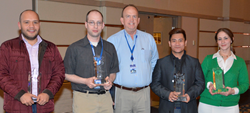 Ultimately our future accomplishments will be shaped by our actions in 2015. Today's planning will be tomorrow's success.
(PRWEB) February 03, 2015
Qualfon, a people-driven business process outsourcing (BPO) company and global provider of contact center services, held its annual leadership summit last week, during which Qualfon executives and managers gathered from across the globe to recognize top leaders and shape the company's strategic business plan as it aims to further the company mission: "Be the Best BPO. Make People's Lives Better."
More than 90 Qualfon leaders met in Coeur d'Alene, Idaho on January 29th to address the company's past, present, and future. Events included inspirational sessions outlining 2014 achievements as well as new objectives and strategic initiatives for the next five years.
During the Qualfon Summit, CEO Mike Marrow, unveiled the inaugural CEO Shining Star Awards, which recognize Qualfon employees whose leadership skills, character, and innovative strategies have resulted in significant contributions to the company over the past years. The 2015 CEO Shining Star Awards were presented to:
-Guy Bacon, Procurement Specialist, for his unwavering commitment to live Qualfon's company values in all aspects
-Alfie Torres, Operations Manager, for his valuable contribution in making Qualfon the best BPO
-Kim Carr, Corporate Director of Quality, for her diligent work to enhance the quality of Qualfon's services
-Angel Posada, Director of Service Delivery, for his distinguished leadership skills that drive positive business outcomes
The two-day event at the lakeside Coeur d'Alene Resort also included tours of Qualfon's contact center facilities in the Spokane Valley, as well as strategy-building workshops, cross-departmental brainstorming sessions and teambuilding activities.
"The 2015 Qualfon Summit is an important opportunity to collaboratively define our future," said Marrow. "Ultimately our future accomplishments will be shaped by our actions in 2015. Today's planning will be tomorrow's success."
About Qualfon
Qualfon is a people-driven business process outsourcing (BPO) company and a global provider of contact center services and back-office processing. With experienced BPO leadership and a strong track record of business growth dating back to our founding in 1995, Qualfon helps companies reduce costs and deliver superior customer experiences. Today, we have 11,000 employees serving international brands across many industries, and our intelligent outsourcing locations span the United States, the Philippines, Guyana S.A., Mexico, and China. Qualfon's mission to "Be the Best BPO, Make People's Lives Better" means we invest in our people and, in return, they take better care of you and your customers. Qualfon's employee retention is twice the industry average, which creates a people-driven value chain: Our employees stay longer, providing you a higher quality service at a lower price. http://www.Qualfon.com