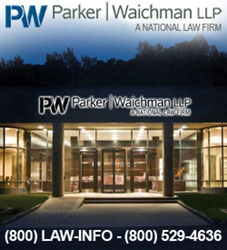 "As a law firm that represents numerous individuals in lawsuits over allegedly defective drugs and medical devices, we want to ensure the public is continually updated about important developments in the Risperdal litigation."
Port Washington, NY (PRWEB) February 03, 2015
Parker Waichman LLP, a national law firm committed to fighting for victims of defective drugs and medical devices, is commenting on recent developments in a trial over the antipsychotic drug Risperdal (Risperidone). Janssen Pharmaceuticals, a subsidiary of Johnson & Johnson, allegedly failed to warn that Risperdal could cause gynecomastia, or abnormal breast growth in boys or men. The lawsuit was filed by the family of a 20-year-old autistic man who started taking the drug when he was seven years old, allegedly causing him to grow large breasts (Case No. 1204-01997).
Court documents show that Former U.S. Food and Drug Administration (FDA) commissioner David Kessler testified to a Philadelphia jury Wednesday that Janssen knew of the link between Risperdal and gynecomastia. Kessler testified that the company had this data as early as six years before the drug's label was changed to include this risk. He also told the jury that he saw no evidence that Janssen informed physicians of this risk.
Court records show that there are more than 1,250 lawsuits pending in Philadelphia County alleging Risperdal caused injuries.
The FDA only approved Risperdal to treat schizophrenia in adult patients when the Plaintiff started taking the antipsychotic drug, the lawsuit states. However, the medication was often prescribed off-label to treat behavioral problems in children with autism. Kessler said that the label was revised to include information about gynecomastia when Risperdal won FDA approval for treating autism in 2006. The new label shows that gynecomastia was observed in 2.3 percent of pediatric patients taking the drug. Previously, the label stated that the rate of gynecomastia in Risperdal patients was less than one in 1,000.
According to Kessler, J&J made a number of attempts to get Risperdal approved to treat autism before 2006; however, the agency was reluctant to do so due to a lack of data on the drug's safety and efficacy. Court documents also reveal that Kessler was walked through a series of reports from the late 1990s and early 2000s tracking adolescent patients prescribed Risperdal. The reports showed that as many as 23 out of 419 boys, or roughly 5.5 percent, developed gynecomastia, according to Kessler's testimony.
Parker Waichman LLP indicates that more than 700 Risperdal lawsuits have been filed in state and federal courts nationwide pending in: In Re: Risperdal Litigation, Case Number 100300296. These lawsuits also similarly allege that the drug caused the Plaintiffs to develop gynecomastia. "As a law firm that represents numerous individuals in lawsuits over allegedly defective drugs and medical devices, we want to ensure the public is continually updated about important developments in the Risperdal litigation." said Gary Falkowitz, Managing Attorney at Parker Waichman LLP. "Our firm continues to offer free, no-obligation legal consultations to anyone with questions about their legal rights."
For more information concerning drug reactions, please visit Parker Waichman's Defective Drug page on its website at http://www.yourlawyer.com. Free case evaluations are also available by calling 1-800-LAW-INFO.