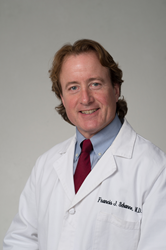 Robotic surgery is an incredible tool that helps make complex surgical treatments safer for patients.
Philadelphia, PA (PRWEB) February 11, 2015
Francis Schanne, MD, FACS, joins Urologic Consultants of Southeastern Pennsylvania. He will see patients at the practice's office on the campus of Hahnemann University Hospital and has joined the hospital as the Director of Minimally Invasive Urological Surgery. Dr. Schanne has a special interest in using robotic surgery to treat prostate, bladder and kidney cancer. He was the first urologist in Delaware to perform robotic prostatectomy, nephrectomy, cystectomy, fistula repair and other procedures. He has performed more than 500 robotic-assisted laparoscopic surgeries.
Dr. Schanne comes to UC from Urologic Surgical Associates of Delaware. He was Chairman of Urology at St. Francis Hospital in Wilmington and is a Fellow of the American College of Surgeons. He will see patients primarily at Urologic Consultants' Hahnemann University Hospital office.
Dr. Schanne has been an early pioneer in the use of robotics for urologic conditions. "Robotic surgery is an incredible tool that helps make complex surgical treatments safer for patients," he says. "In many cases, this advanced technology can offer patients quicker recovery, fewer side effects and ultimately, better outcomes."
Dr. Schanne provides care for all urologic concerns. Board-certified in urology, he also specializes in treating incontinence and kidney stones and performing no-scalpel vasectomies. He believes open and honest communication is the key to successful care.
"When patients fully understand their medical issues and treatment options, they can ultimately make the best decisions about their healthcare plan," he says.
Dr. Schanne completed four years on active duty as a urologist at Martin Army Hospital, Fort Benning, Georgia. He obtained a bachelor's degree in electrical engineering from Villanova University and earned his medical degree from Jefferson Medical College. He completed his internship and residency in urology at the Hospital of the University of Pennsylvania.
Dr. Schanne enjoys spending time with his wife and four children, particularly in outdoor activities such as hiking, golf and rock climbing.
Urologic Consultants is a practice of 18 physicians with extensive experience, including robotic and minimally invasive surgery for treatment of incontinence, sexual disorders, enlarged prostate, urologic cancers and women's urology. Physicians in the practice teach at three local universities and participate in numerous research studies. They have offices throughout Philadelphia and Montgomery County. For more information, visit http://www.MyUroDoc.com or call 215-762-3200.