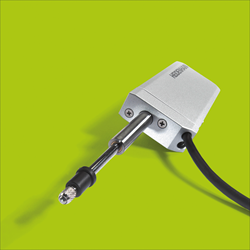 SCHAUMBURG, IL (PRWEB) February 04, 2015
HEIDENHAIN is pleased to announce the latest expansion of its gauging line, the ZERO-FORCE METRO Length Gauge. With the uncompromising accuracy that HEIDENHAIN customers have come to expect, extremely sensitive materials can now be measured without fear of product deformation. It is especially suitable for measuring malleable materials in several industries, including medical device, chemical, and precision mechanics.
Two new variants of the established 1Vpp METRO gauge are available immediately in 12mm stroke lengths; one with gauging forces of 0.25N in any mounting orientation with a weak spring and one with a gauging force of ~0.0N mounted vertically downward with a ZERO-FORCE spring mechanism. Even with the improvement to the force spec, the METRO still maintains its high accuracy of ±0.2µm and thermal stability due to the optical encoder technology inside.
For more information, contact HEIDENHAIN's Public Relations Manager Kathleen Stoneski at (847) 519-4702 / (kstoneski(at)heidenhain(dot)com) or Product Specialist Stuart Graham at (847) 519-3296 / (sgraham(at)heidenhain(dot)com). Or write to us at HEIDENHAIN CORPORATION, 333 E. State Parkway, Schaumburg, IL 60173. HEIDENHAIN can also be accessed directly via our web site at http://www.heidenhain.us.
HEIDENHAIN CORPORATION is the North American subsidiary of DR. JOHANNES HEIDENHAIN GmbH, a leading international manufacturer of precision measurement and control equipment. Our product line includes linear scales, rotary and angular encoders, digital readouts, digital length gages, CNC controls, and machine inspection equipment.
#
Downloadable digital image available at: http://www.heidenhain.us/Images/pr_images/317_MT2500.jpg