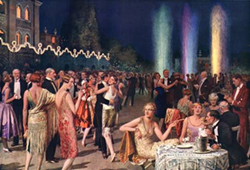 The event will be hosted by Tara Dublin, radio host and actress, currently playing a detective in an ongoing role on NBC's "Grimm."
Portland, Oregon (PRWEB) February 04, 2015
The Bootleggers Ball, hosted by Step5 Productions and presented by Campbell Global, is taking place on Saturday, March 7th in the heart of Portland's Pearl District. The event supports the work of Chrysalis and Family of Friends, two of Trillium Family Services' community programs that serve youth in the Portland Metro area. Trillium Family Services is a non-profit organization that provides vital support for the mental and behavioral healthcare needs of Oregon's children and families.
A throwback to the speakeasy days of the 1920s jazz era, Bootleggers Ball promises to revisit the raucous and vice-ridden streets of Portland for this period dress gala, raising necessary funds and building social awareness for Trillium Family Services. In true speakeasy form, the event will take place at an undisclosed location in the heart of Portland, with the location being released to ticketholders the day of the event.
The 4th Annual Bootleggers Ball will feature live music and entertainment, passed hors d'oeuvres, gourmet food stations, period-inspired cocktails, sponsor VIP lounges, silent auction and paddle raise, theme-inspired surprises, the premiere of a short film about Trillium Family Services by Magaurn Media, and more!
The event will be hosted by Tara Dublin, radio host and actress, currently playing a detective in an ongoing role on NBC's "Grimm." Tara is a beloved Portland institution with a heart as big as her personality, and is a tireless advocate for the most vulnerable among us.
Sponsorship opportunities are available now at this link: http://www.bootleggersballpdx.com/#bootleggersiv
To purchase tickets to the event, visit https://tfscfh.ejoinme.org/MyPages/BootleggersBall/tabid/490237/Default.aspx
For more information about Trillium Family Services, visit http://www.TrilliumFamily.org
###-###
About Step5:
Step5 Productions is a nonprofit organization based in Portland, Oregon, founded by five young adults. Passionate about making a difference in the local community, Step5 focuses on giving back to local charities by raising awareness to different issues involving the community. Through volunteering, planning and hosting events, Step5 aims to bridge the gap between a network of young adults with an older, more established group of professionals and volunteers.
About Trillium Family Services:
Guided by its mission of "Building Brighter Futures with Children and Families," Trillium Family Services is Oregon's leader in mental and behavioral health treatment for children and families. Children receiving care through Trillium's programs face challenges such as depression, autism, bipolar disorder, anxiety, and other seriously debilitating conditions. Many come from stable families seeking relief for their children; others have experienced severe abuse or trauma in significantly dysfunctional family or home environments. Trillium uses the latest, most effective evidence-based practices that bring healing to these young people.