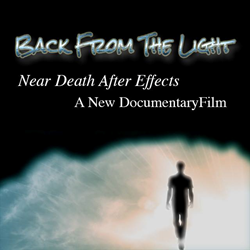 "If we could create a film that will help Family Members, Friends, and the Individual better cope....we can actually make a difference." - Robert Neal Marshall
Raleigh, NC. (PRWEB) February 05, 2015
What would it feel like to touch eternity.. then face mortality again? Worldwide millions are dealing with Near Death Experiences (NDEs), either personally or as the loved one, family or friend of someone who has been on that journey.  Lives are changed irreversibly by surviving such a traumatic event. Withstanding the ultimate expedition that is a part of all Humanity is humbling and intense.  BACK FROM THE LIGHT is a new documentary film that addresses understanding and coping with these Aftereffects.
No matter what one believes happens to individuals while they are gone, it is learning to live back in this world afterwards in the here and now that becomes a tough journey, often filled with ostracism and dismissal. Many crave the peace and love experienced while "in the light."   BACK FROM THE LIGHT interviews dozens of people who have a very rare insight into this phenomenon, from #1 New York Times Best Selling author Dr. Mary C. Neal to other medical professionals, writers, artists and every day people trying to find answers to the ultimate question.
Director & Co-Executive Producer Robert Neal Marshall went into ventricular fibrillation, the "Widow Maker," in August 2013 and was clinically dead for 1 1/2 minutes before resuscitated by paramedics. Co-Executive Producer Yvonne Sneeden suffered a deep emotional life crisis in conjunction with medication for heart arrhythmia which lead to her NDE. Having survived these dramatic events, Marshall and Sneeden learned that many others also struggle with not only the emotional challenges of what happened, but try to deal with difficult changes, often feeling alone. They have joined forces to establish One2gether Productions, LLC for the purpose of bringing this deeply personal, inspirational and informative documentary film to life.
A graduate of NYU Film, Marshall is a filmmaker/playwright with several niche market documentaries to his credit. As a Casting Associate with famed Casting Director Pat Moran, CSA (THE WIRE, HAIRSPRAY), Marshall was a member of the team to win an Emmy® Award for casting GAME CHANGE with Julianne Moore and an Emmy® Nomination for casting Season 1 of VEEP starring Julia Louis-Dreyfus, both for HBO.  Sneeden's professional career includes extensive foreign diplomatic service in Europe and as an Operations Manager for a large international technology corporation.
BACK FROM THE LIGHT has now expanded to include sponsorship from an Indiegogo crowdfunding campaign. With over 25 hours of interviews and raw footage already "in the can" this film has grown in scale with additional interviews and editing ahead. Seeking distribution and film festival participation, completion is anticipated for a late Spring 2015 release
For more information - Indiegogo Campaign: http://igg.me/at/BackFromTheLight/x/1149666 Website: http://www.BackFromTheLight.com Twitter: @BackFrmTheLight Contact: Robert Neal Marshall (410) 984-0224 or Yvonne Sneeden (919) 961-3270 | email(at)BackFromTheLight(dot)com