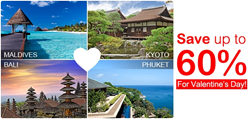 Agoda.com is offering fantastic Valentine's Day deals on accommodation in four of Asia's most romantic destinations - Kyoto, Bali, Phuket, and Maldives.
Singapore (PRWEB) February 04, 2015
Agoda.com, one of Asia's leading hotel booking sites and part of Nasdaq-listed Priceline Group (Nasdaq:PCLN), has uncovered a list of accommodation specials in Maldives, Bali, Phuket, and Kyoto to celebrate Valentine's Day.
Asia is full of vacation experiences that combine the romantic with the beautiful, relaxation with unique experiences, and an environment perfect for celebrating a special day. These four destinations consistently score high among couples who want to add an element of romance to their trip.
The blue water and pristine beaches of Maldives are known the world over, considered by many as an ideal location for a romantic getaway. The island country took top spot in an Agoda.com survey that asked people to name their dream honeymoon destination.
The lush jungles, warm water, and vibrant artistic culture of Bali make it a perfect place for a couples escape. Similarly, Phuket's long beaches and famous tropical views are a great backdrop for a romantic adventure. Both of these locations offer activities to suit all couples, whether they want to have an adventure, enjoy some fine dining, or simply do nothing and unwind.
Couples seeking a dose of history will love spending time in Kyoto, which served as Japan's capital for over a thousand years. It's a city that embraces modernity while retaining the defining aspects of its rich cultural heritage. Getting lost in Kyoto's many narrow lanes, exploring ancient temples, and shopping in local markets will provide experiences sure to fill up a couple's Facebook feed.
No matter which of these destinations catch your eye, Agoda.com's special hotel deals make them a perfect choice for couples to celebrate Valentine's Day. To browse and book hotels in each location, head to the special landing page at http://www.agoda.com/BeMyValentine