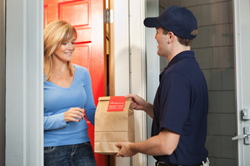 Atlanta, GA (PRWEB) February 05, 2015
AQuickDelivery, a recognized leader for same-day delivery, messenger and transportation services announces same-day food delivery services throughout Atlanta. The Atlanta courier makes the announcement comes as an effort to promote its wide range of same-day delivery services within the take-out food market, expand its' current customer base and increase sales growth. AQuickDelivery pursues to be the best choice for same-day courier and transportation solution throughout the Atlanta and Metro-Atlanta area.
AQuickDelivery will provide food pick-up and delivery services the same day in Atlanta. The courier service must be placed on the courier's fastest, premium delivery service "Direct" option, due to hot food items. The service involves the pick up occurring within a 30-minute window, beginning from the time the customer states the food order is ready. Once the AQuickDelivery driver has the food on board, it is transported directly to the destination for delivery. Customers are requested to provide a recipient that will accept the food delivery.
Individual customers, account holders, small businesses, and corporations have lunch orders, daily events and volume lunch sessions during the course of a day or business week. AQuickDelivery promotes their same-day delivery of food to save time and provide convenience for these customers, instead of handling large food orders themselves. Most same-day food orders are requested from restaurants within close proximity of the customer.
Requests for same-day delivery of food can be made via phone or online. For any specific pick up instructions, customers are recommended to contact AQuickDelivery to discuss their same-day food delivery needs. AQuickDelivery can also develop scheduled same-day food delivery courier solutions.
AQuickDelivery is a premier same-day courier offering transportation and distribution services. From packages to palletized freight, AQuickDelivery delivers fast. As a leader in the courier industry, its' goal is to perform optimal courier logistic solutions and superior customer service every time. The courier provides same-day delivery successfully for over 1,500 clients, including Fortune 500 companies throughout the Georgia area.