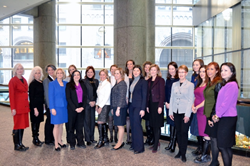 "Together, we have the ability to expand one another's careers, build an unrivaled community and forge a network of the best and brightest across five boroughs." - Co-President, Christine Chipurnoi
New York, New York (PRWEB) February 05, 2015
At its first luncheon of the year, CREW New York – New York City's largest real estate organization for women – announced that it has been selected to host the 2016 CREW National Convention. At the luncheon, a group of New York's most influential women in real estate gathered to network, celebrate the organization's new shared identity, and to debut the CREW New York logo.
The event's centerpiece was guest speaker Annemarie DiCola, Esq., a consummate expert in commercial real estate and the chief executive officer of Trepp, LLC, a leading global real estate consulting firm. DiCola shared her expertise on growing markets, the nuanced debt sector and more. DiCola was the first female president of the Commercial Mortgage Securities Association, and is also an active member of CREW New York.
"Annemarie is an icon of our organization," said CREW New York Co-President and CREW Delegate Jane Lyons. "She, like all of our members, is a gifted professional with the ability to steer the world's most complex real estate market. CREW New York is positioned to accomplish truly great things in the coming months and years."
The luncheon comes on the heels of January 2015's historic merger, where the Association for Real Estate Women (AREW) and the New York City chapter of Commercial Real Estate Women (CREW) Network joined forces to create CREW New York. The new organization boasts tremendous pedigree: AREW was the U.S.'s first group exclusively for female real estate professionals and NYCREW has boasted a strong contingency of members with high-end event programming since 2001. Both organizations were members of the CREW Network, the industry's premier national organization for women, with nearly 9,000 members in over 70 North American markets. Together, the two groups create an unparalleled organization here in New York City, one of the world's largest and most dynamic real estate markets, and a single, more powerful chapter of the national CREW Network.
Tuesday's luncheon served as an opportunity for CREW New York to set the course for 2015 and beyond. The organization will leverage exceptional speaking engagements, lively cocktail hours and peerless networking events where industry leaders will not just discuss the city's real estate landscape, but shape it.
"The recent merger has united the most formidable players in New York City real estate," added CREW New York Co-President and CREW Delegate Christine Chipurnoi. "Together, we have the ability to expand one another's careers, build an unrivaled community and forge a network of the best and brightest across five boroughs."
CREW New York's Officers are: Co-President and CREW Delegate Christine Chipurnoi; Co-President Jane Lyons; President Elect Theresa Garelli; Treasurer Sara Rubenstein; Secretary Amelia Janisz; Member at Large Robin Fisher; and Immediate Past Presidents Erin Bond and Laura Walker.
For more information about CREW New York events and membership opportunities, visit http://www.crewny.org.
About CREW New York: CREW New York is the largest women's real estate organization in New York City with more than 350 members. The professional group was established in 2015 to bring together two sister organizations, Association for Real Estate Women (AREW) and the New York City chapter of Commercial Real Estate Women (CREW) Network. CREW New York exists to provide outstanding educational programs and networking opportunities that support the advancement and success of women in the real estate industry. The organization offers a robust set of educational events and programs to encourage career development and growth for men and women across all segments and levels of the real estate industry. AREW was the first U.S.-based association dedicated to the professional growth of female real estate professionals.
About CREW Network: The mission of CREW Network is to influence the success of the commercial real estate industry by advancing the achievements of women. CREW Network does this by looking outward to bring more women into the industry, showcasing member successes and serving as a key resource to its members and the industry. CREW Network members represent nearly all disciplines of commercial real estate – every type of expert required to "do the deal." Members comprise more than 9,000 commercial real estate professionals in more than 70 chapters across North America. Find CREW Network on Facebook, follow CREW Network on Twitter, and visit CREW Network at http://www.crewnetwork.org.