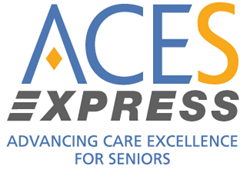 "ACESXPRESS delivers concise strategies to implement best practices in gerontology. Using our collective experiences, the NLN helps improve care practices within the specialty and across the nation." NLN President Dr. Marsha Adams
Washington, DC (PRWEB) February 04, 2015
A digital campaign has been launched to mobilize new and existing users of the NLN's Advancing Care Excellence for Seniors(ACE.S) free geriatric resources, the NLN announced today. Since its launch in 2011, a diverse pool of educators, caregivers, and health care workers have accessed ACE.S and now through ACESXPRESS the NLN seeks to engage an even broader audience from a variety of educational settings.
The new NLN ACESXPRESS microsite features a wide range of free resources and teaching strategies available through webinars, Twitter chats, teacher-ready starter kits, and more.
Said NLN president Marsha Howell Adams, PhD, RN, CNE, FAAN, ANEF, "ACESXPRESS was developed to deliver concise strategies to implement best practices in gerontology. Using our collective experiences, the NLN and its stakeholders can improve care practices within the specialty and across the nation."
Approximately 50 percent of patients in both hospital and ambulatory care settings are over 65 years old and more than 90 percent of residents in nursing homes are seniors. Older adults are the core business of health care and represent more and more of the population.
NLN CEO Beverly Malone, PhD, RN, FAAN, described ACESXPRESS as providing a unique opportunity to engage nurse educators in rich on-going discussions about the state of geriatric care. "Providing competent, individualized, and humanistic care is fundamental to the NLN's mission and core values," Dr. Malone continued. The NLN invites other interested organizations to join in this vital endeavor. To get involved in the ACESXPRESS campaign, visit the resources section at http://www.acesxpress.org.
More information about ACESXPRESS, ACE.S, and the other NLN Advancing Care Excellence (ACE) programs is available on the NLN website or you may contact Tatiana Nin at 202-909-2494.
Dedicated to excellence in nursing, the National League for Nursing is the premier organization for nurse faculty and leaders in nursing education. The NLN offers professional development, networking opportunities, testing services, nursing research grants, and public policy initiatives to its 40,000 individual and 1,200 institutional members. NLN members represent nursing education programs across the spectrum of higher education, and health care organizations and agencies.