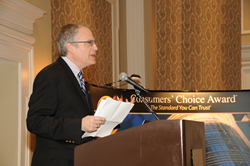 'The Consumers' Choice Award is excited to be promoting our new voting initiative on WCMH and Time Warner,' says company president, Jeffrey Chernoff. 'It will make the process even more democratic,' adds Chernoff
Columbus, Ohio (PRWEB) February 06, 2015
The Consumers' Choice Award, which identifies and promotes customer service excellence in local markets, is launching its 17th year in Columbus. There is, however, a new twist on the voting process.
Traditionally, the polling was the exclusive domain of Survey Sampling International (SSI), a consumer research company based in Connecticut. Although the Consumers' Choice Award will continue to employ SSI and their registered respondent panel, voting will be augmented by allowing all residents to opt into the voting process.
The voting site, http://www.VoteColumbus.com, will allow residents to vote for their favorite Columbus businesses across six industry categories. These will include services for Home, Business, and Personal needs. The voting site will be promoted on NBC4 TV as well as multiple networks through Time Warner Cable. A month long campaign will encourage viewers to cast their vote online. The campaign will also utilize digital marketing and social media initiatives to promote the voting site.
Once online, consumers are asked to consider criteria such as service, professionalism, and value when considering their choices. Winning companies will be based on the combination of votes from the SSI panel and residents going to the VoteColumbus.com website.
As a result of this new campaign, it's expected that over 30,000 votes will be gleaned in the process. The media buzz generated by the campaign will also help further the brand of Consumers' Choice Award in the marketplace.
Winning companies will be invited to a Winners' Luncheon in Columbus next month at the Columbus Hilton at Easton. A date has not yet been announced.
For more information please contact: info(at)consumerschoiceaward.com