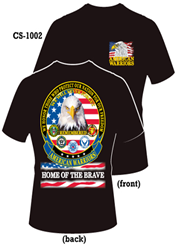 Helping America One Shirt At A Time
Dayton, Ohio (PRWEB) February 06, 2015
In an effort to raise awareness for all those that sacrifice, Liberty Wear, an American Made Apparel Company has launched an apparel line called "American Heroes Shirts." The shirts are officially licensed and proceeds from the sales benefit the different groups of services involved.
There are 5 different categories of shirts that touch on a specific hero that Liberty Wear wants to make more public. The campaign has started with a American Warriors, POW-MIA, Wounded Warrior, First Responders, and KIA shirt collection.
The First Responders shirt plays an important role as it is seen as all first responders, including fire, emt, police, sheriff, and emergency services. Along with the American Warriors shirt which encompasses all branches of the military.
Liberty Wear's hope is to bring more attention to all these heroes and shine light on what they do and sacrifice for everyone else day in and day out.
These 100% ringspun combed cotton fashion shirts have already hit shelves and are available now.
"Helping America One Shirt At A Time," Liberty Wear.