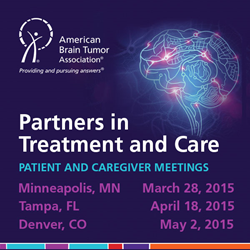 "By engaging regional health care professionals and providers, the ABTA is able to offer exceptional learning and networking opportunities in local settings."
Chicago, Ill., (PRWEB) February 05, 2015
The American Brain Tumor Association (ABTA) announced it will be hosting satellite educational meetings for patients and caregivers in select cities across the U.S.
These free, one-day meetings, themed: Partners in Treatment and Care, complement the ABTA's annual meeting in Chicago where renowned experts from top brain tumor centers across the country gather to present the latest advances in brain tumor research, treatment and care. With the expertise of regionally located brain tumor specialists, these satellite meetings will ensure up-to-date brain tumor treatment and care information is more widely available to the brain tumor patient and caregiver community.
"There is a growing and unmet need for information and education at the local level, and our goal is to fill that need for brain tumor patients and caregivers at the point of diagnosis and throughout the trajectory of the disease," said Elizabeth M. Wilson, MNA, President and CEO, American Brain Tumor Association. "These initiatives are an outcome of the ABTA's efforts to bring more information, to more people, in more meaningful ways. By engaging regional health care professionals and providers, we are able to offer exceptional learning and networking opportunities in local settings."
In addition to the national meeting in Chicago, July 24-25, 2015, the ABTA will host Partners in Treatment and Care meetings in the following cities:

Minneapolis, Minn. - March 28th
Tampa, Fla. - April 18th
Denver, Colo. - May 2nd
Funded in part by Genentech, the Partners in Treatment and Care meetings will cover brain tumor treatment trends, symptom management strategies, coping with the financial impact of the diagnosis, and living well with a brain tumor. Attendees will learn about advances in treatment and care and local resources available to brain tumor patients and caregivers while enjoying a unique opportunity to network and gain support from other brain tumor patients and caregivers.
For complimentary registration, go to http://www.braintumormeetings.org.
ABOUT THE AMERICAN BRAIN TUMOR ASSOCIATION
Founded in 1973, the American Brain Tumor Association was first and is now the only national organization committed to funding brain tumor research and providing information and education on all tumor types for all ages. For more information, visit http://www.abta.org or call 800-886-ABTA (2282).
Contact:
Sandy Abraham
773-577-8791
sabraham(at)abta(dot)org
# # #