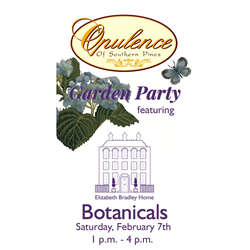 Join Opulence of Southern Pines Saturday, February 7th for an Elizabeth Bradley Home Trunk Show Featuring Luxury Needlepoint Pillows
Raleigh, NC (PRWEB) February 06, 2015
Opulence of Southern Pines in Cameron Village Shopping Center and Elizabeth Bradley Home have teamed up for a "Garden Party" themed trunk show featuring Elizabeth Bradley Home's needlepoint home decor line, Saturday, February 7th.
Opulence of Southern Pines offers luxury items including bedding, bed linens, towels, down duvets and pillows, fine lingerie, bamboo loungewear, slippers, soaps, lotions, shaving products, candles, silk florals, personal and home fragrances and the luxurious Swedish DUXIANA bed, "The Bed For Life."
With a rich history in English Tapestry, Elizabeth Bradley Designs launched Elizabeth Bradley Home in October of 2014 with its first collection of the finest finished needlepoint products for the home decor market. After a successful launch of the Botanicals collection, Elizabeth Bradley Home will be launching its second collection, Blooms, in the spring of 2016. Each design requires approximately 120 hours of skilled hand stitching, making them a unique, timeless product and a true work of art. The company is excited about exploring the home decor and interior design industry.
Please join Opulence of Southern Pines in welcoming Elizabeth Bradley Home into their Cameron Village location on February 7th. Come enjoy a champagne cocktail, a day full of shopping, friends, and all things luxury. The event will be held from 1pm-4pm at 400 Daniels Street, Raleigh, NC 27605.