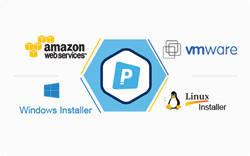 The partnership provides customers with a completely configured Precurio Intranet environment that can be up and running in the cloud in minutes
(PRWEB) February 06, 2015
FLORIDA, USA (FEB 06): Precurio has announced a partnership with Bitnami to offer the Precurio Intranet software on the Bitnami cloud hosting platform, which simplifies the process of deploying and managing Precurio on enterprise cloud service providers like Windows Azure, Amazon Web Services and Google Cloud Platform.
This partnership will provide customers with a completely configured instance of Precurio up and running on the cloud in just a few clicks – no "cloud" knowledge required. With automated backups and monitoring, enterprise customers have less to worry about the cloud.
"Cloud infrastructures like Amazon Web Services offer a powerful, scalable, on-demand computer environment. Using the Bitnami cloud hosting platform, IT Managers can easily set up new development and product environments for their intranet sites in a matter of minutes, and only pay for what they use," said Erica Brescia, COO of Bitnami.
"More importantly, new customers who would have preferred their intranet portal hosted on the cloud but do not want to give up control – in terms of server management and customization privileges – can now have their intranet on a cloud infrastructure they actually control," said Mayowa Okegbenle, Co-founder, Precurio.
The partnership also provides consultants and solutions providers with a completely configured Precurio environment that can be up and running in the cloud in minutes, making it easy for users to confidently run Precurio Intranet on popular cloud infrastructures, irrespective of their technical skill level.
More information can be found on our website
About Precurio
Precurio offers the mid enterprise segment an Intranet solution that combines enterprise collaboration & content management with simple document management and workflow automation. Precurio Intranet Software was first launched in 2010, and now serves organization in 22 countries and available in 6 languages. For more information, visit http://www.precurio.com.
About Bitnami
Bitnami is reinventing the software application experience. By enabling users to launch popular applications and development stacks in the cloud and everywhere else with a single click, Bitnami.com has become the world's most popular destination for many of today's most popular applications. The company is also the largest source of applications for leading cloud marketplaces including Amazon Web Services, Microsoft Azure and VMware. In total, organizations deploy more than a million Bitnami applications each month. Bitnami is headquartered in San Francisco, CA and has a major development center in Seville, Spain. For more information, visit http://www.bitnami.com, or follow us on Twitter (@bitnami) and Facebook.