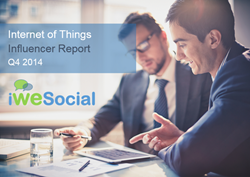 IoT interest represented in online discussion continues to grow. It is now up to IoT product and service providers to make the case that this new phenomena has moved beyond hype."
Denver, Co. (PRWEB) February 09, 2015
iWeSocial, a leader in delivering actionable insight to businesses, today announced the availability of their latest Industry Research Report focused on the Internet of Things (IoT). The iWeSocial Insights team analyzed mentions of what influencers are saying about #IoT or "Internet of Things" on Twitter.
About the report, Dr. Evan Escobedo, Practice Principal for iWeSocial, noted, "IoT interest represented in online discussion continues to grow. It is now up to IoT product and service providers to make the case that this new phenomena has moved beyond hype."
To identify influencers, iWeSocial ran 224,710 IoT tweets through an algorithm built to specifically filter out tweets from non-influencers and businesses. Using their web analytics platform iWeSocial IQ, the research team collected data from individuals with over 1,000 Twitter followers plus having a high impact score.
As a result, iWeSocial Market Researchers were able to identify 14,632 influential tweets about IoT from November 1st, 2014 to January 31st, 2015 that met this criteria.
Download the full report HERE!
About iWeSocial:
Headquartered in Denver, Colorado. iWeSocial, a division of Zunesis, Inc., is a digital marketing firm that serves both small and large clients across multiple industries and verticals.
Our core services include Social Media Listening, Management, and Engagement; Market and Brand Research; as well as Inbound Marketing and SEO. Our social listening and analytics platform, iWeSocial IQ, is best in industry for social media listening, brand reputation, customer sentiment, competitive standing, and industry analysis. For more information, please visit http://www.iwesocial.com.
Media contacts:
Megan Shaffer / Zunesis, Inc.
720-221-5201