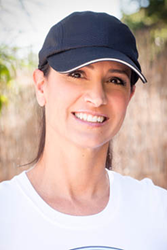 I was frustrated with the lack of functionality traditional baseball caps offered women and wanted to create a hat that would fit our needs
Morgan Hill, CA (PRWEB) February 09, 2015
ADActivewear, a Silicon Valley company known for their innovative Hytail® Ponytail Hats, announces the launch of their new Athletic Version. Made from comfortable and stylish moisture wicking material, the Athletic Version was designed for high impact application to help women stay cool and provide protection from the sun.
The Athletic Version is lightweight and mirrors the signature patented Hytail Hat design of a two inch band, which allows women to comfortably wear their hair high in a ponytail while wearing the hats.
ADActivewear Founder and Hytail Hat Designer, Tess Rogers, proved that not only technology can successfully come out of Silicon Valley when she launched ADActivewear in 2012, after successfully creating the first baseball hat to fit the needs of women.
"I was frustrated with the lack of functionality traditional baseball caps offered women and wanted to create a hat that would fit our needs," said Hytail Hat creator Tess Rogers.
The patent approved Hytail Hat is designed with a high arch and a two inch band that lifts the ponytail up, allowing women to wear their hair high in a ponytail, with or without a hair band.
Rogers said she attributed much of her motivation in creating the product to both Silicon Valley and her other company, Tess Rogers and Associates, a Silicon Valley recruiting organization for high tech clients that she has run for 16 years.
"When you live and work in Silicon Valley you are surrounded by technological innovators and visionaries," said Rogers. "This inspired me to take my frustrations with traditional hats to re-engineer a solution.
"By operating Tess Rogers and Associates and working with various high tech companies, I know what it takes to build organizations from the ground floor and cultivate relationships," said Rogers.
"I understand firsthand that starting any business is not an easy process," said Rogers. "You begin with a concept and then you must keep that concept protected with the goal to ultimately build a solid brand around it."
Rogers said the ball cap business was in need of a female perspective.
"The baseball hat industry is dominated by men's headwear augmented for women but not all that functional for women with long hair, I wanted there to be a hat designed for women by a woman and was willing to take on this challenge," said Rogers.
According to Rogers, Hytail Hats have seen their sales triple over the past three years and expects them to continue to increase with the new launch of the Athletic Version.
Both the Original and Athletic Hytail Hat lines boast a sleek look, comfort and sun protection for both women and girls and is available for purchase on the ADActivewear website.
The Athletic hats are offered in Black or White for $25. ADActivewear also carries a Breast Cancer Line and donates a percentage of its proceeds to the Breast Cancer Fundraiser.