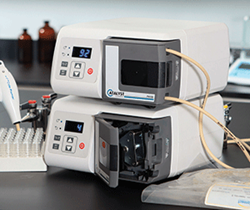 Vernon Hills, IL (PRWEB) February 09, 2015
Reduce setup time with the Catalyst™ by Masterflex FH Series peristaltic pumps from Cole-Parmer. The integrated pump and drive systems arrive fully assembled and ready to run. Save additional time when changing tubing—30 seconds is all it takes. Tubing occlusion is automatic when the pump head is closed. The interlock switch powers unit down when pump head is opened while the unit is running.
Catalyst FH100 Precision Peristaltic Pumps offer an intuitive keypad to quickly increase or decrease flow. View RPM on digital display for accurate control and repeatability. Purge tubing before and after use with reversible motor. For automated processes, remote control is standard.
Catalyst FH100D Digital Peristaltic Dispensing Pumps display all operational parameters on the LCD for at-a-glance monitoring. Programmable dispensing modes include volume, time, or copy, with convenient programmed delay between cycles. These pumps can be programmed in seven languages.
Catalyst FH100M Digital Multichannel Peristaltic Pumps provide multiple flow channels in a single pump. Their cartridge design enables quick tubing changes—and eliminates the hardware of other multichannel designs. Select from 4, 8, or 12 channel models.
All Catalyst tubing pumps accept multiple tubing sizes for a broad flow range. View the full line of Catalyst™ by Masterflex peristaltic pumps at ColeParmer.com/21386. For more information, call 800-323-4340.
Cole-Parmer has been a leading global source of laboratory and industrial fluid handling products, instrumentation, equipment, and supplies since 1955. Our product lines, including popular brand names such as Masterflex®, Oakton®, Digi-Sense™, and more, are sold through company-owned customer channel outlets and a strong network of international dealers. We also feature an ISO17025-accredited metrology lab for instrument calibration and repair. Cole-Parmer responds with excellence to customer needs, and offers application expertise and technical support. For more information, contact Cole-Parmer, 625 East Bunker Court, Vernon Hills, IL 60061. In the US, call 800-323-4340. International customers, call 847-549-7600. Visit us at ColeParmer.com.