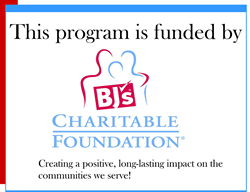 AKRON, OH (PRWEB) February 10, 2015
On January 20th, Mature Services' Homecare received a $2,500 grant from BJ's Charitable Foundation. The Homecare Program provides services to help older adults stay in their homes and remain independent for as long as possible. Home health aides assist with personal care, housekeeping and vital errands such as grocery shopping for older adults and older adults with disabilities. Services are available to eligible residents of Summit County.
"This award will provide essential supplies for our Homecare Program, and there is a growing need for these services," said Linda Valentine, President/CEO of Mature Services. "Support from companies like BJ's make it possible for us to serve this growing segment of our population," said Penny K. Hovey, Director of Homecare.
Founded in 2005, B.J's Charitable Foundation has given over $19 million through programs and grants to over 2,300 community organizations in the 15 states where BJ's Wholesale Clubs are located.
Mature Services was established in 1975 to provide high-quality programs to empower the economic, social, physical and mental well-being of adults as they age. Mature Services provides programs including homecare, alcohol, substance abuse and gambling treatment and prevention, mental health counseling, job training, home delivered and congregate meals, farmers market, volunteer opportunities and emergency food pantry.
If you would like to learn more about Mature Services' Homecare Program, please visit http://matureservices.org/hc/homecaresupportive.php or contact Penny K. Holvey at 330-253-4597 x123.