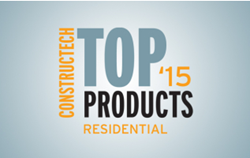 We are pleased Viewpoint For Estimating has been included on this list and believe it validates our ability to continually improve and strengthen our products, delivering solutions that address the issues contractors face everyday
Portland, Ore. (PRWEB) February 10, 2015
Viewpoint Construction Software® a leading provider of innovative software solutions to the construction industry, is pleased to announce Viewpoint For Estimating™ has been named a 2015 Constructech Residential Top Product. The Top Products list honors technology solutions that have demonstrated the greatest innovations geared toward the homebuilding market.
"We are pleased Viewpoint For Estimating has been included on this list and believe it validates our ability to continually improve and strengthen our products, services and reputation for delivering solutions that address the issues contractors face everyday," stated Jay Haladay, CEO of Viewpoint. "With more than 35 years' experience in the construction industry, Viewpoint goes beyond offering the right software solutions, by also providing a partnership committed to developing contemporary and innovative solutions which improve our customer's ability to confidently operate and grow."
"As the homebuilding market looks to rebuild, builders need to find the right software tools that will help them stay profitable. Residential construction companies must continue to implement best practices that will help them remain efficient and productive even during the downturns," says Peggy Smedley, editorial director, Constructech magazine. "The 2015 residential Top Products winners represent the solutions Constructech believes best support all these efforts."
Viewpoint for Estimating gives contractors the tools to quickly and accurately takeoff, estimate, and bid projects for best profit. This suite of easy-to-use solutions provides ways to save time, simplify workflow, prepare more winning bids and manage alternates and change orders while efficiently maintaining a pipeline of opportunities. With Viewpoint for Estimating, complex bids can now be completed in just hours rather than days or weeks.
About Viewpoint Construction Software
Viewpoint is a provider of innovative construction-specific software solutions to the global construction and capital project industries. Viewpoint provides the tools they need to improve project profitability and visibility, manage risk, and effectively collaborate with the entire project team. Viewpoint solutions include everything needed from preconstruction to construction and facilities maintenance, and are offered on a variety of platforms, including Cloud, Mobile, SaaS and On Premises. Headquartered in Portland, Oregon, USA, and with offices in the UK and Australia, Viewpoint has become the technology partner of choice, with customers located across the globe in more than 28 countries. These customers include more than 30 percent of the ENR 400, and more than 50 of the top mechanical and electrical contractors in the United States – more than any other construction software provider. For more information, please visit http://www.viewpoint.com.
© 2014 Viewpoint, Inc. dba Viewpoint Construction Software. All Rights Reserved. Viewpoint®, Viewpoint Construction Software®, Viewpoint V6 Software®, Vista by Viewpoint™, ProContractor by Viewpoint™, Construction Imaging®, Mobile Field Manager™, 4Projects®, Viewpoint For Project Collaboration™ and Viewpoint For Estimating™ are trademarks or registered trademarks of Viewpoint, Inc., in the United States and/or other countries. Other names and brands may be claimed as the property of others.