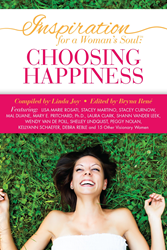 "The bravery, courage and depth these extraordinary women went to in telling their transformational stories with such openness and vulnerability is truly inspiring."
Lakeville, MA (PRWEB) February 11, 2015
Some of today's leading visionary women in the areas of empowered living, transformation, love, spirituality, abundance, the law of attraction, have come together for a new book, Inspiration for a Woman's Soul: Choosing Happiness, compiled by bestselling inspirational publisher Linda Joy, founder of Aspire Magazine and Inspired Living Publishing. The book features 27 authors and is available at http://www.choosinghappinessbook.com, where it also comes with 50 transformational gifts.
"The bravery, courage and depth these extraordinary women went to in telling their transformational stories with such openness and vulnerability is truly inspiring," says Joy. "Though each of their journeys are different, you'll discover a sacred truth woven through each one – that even in the midst of life's messiness we all hold the power to choose happiness."
Contributing authors for Choosing Happiness include: Lisa Marie Rosati, Stacey Martino, Stacey Curnow, Mal Duane, Mary E. Pritchard, Ph.D., Laura Clark, Wendy Van de Poll, Kellyann Schaefer, Peggy Nolan, Shelley Lundquist, Shann Vander Leek, Debra Reble, Ph.D., Boni Lonnsburry, Shelley Riutta, Kristi Ling, Lisa Wells, Christy Whitman, Mia Moran, Lynda Monk, Alexa Linton, Sangita Patel, Linda Bard, Sandi Gordon, Tiffany Kane, Marianne MacKenzie, Tina Van Leuven, and Stacey Hoffer Weckstein. The forward for the book was written by Shannon Kaiser, The Joy Guru and bestselling author of Find Your Happy: An Inspirational Guide to Loving Life to Its Fullest.
Inspired Living Publishing publishes bestselling books by women for women. Inspiration for a Woman's Soul: Choosing Happiness will be the third book in a series of transformational anthologies. The first two in the series, A Juicy Joyful Life and Embracing Your Authentic Self, both hit the bestseller lists in multiple categories.
Linda Joy is a bestselling inspirational publisher, passionate speaker, and authentic marketing and list building catalyst dedicated to providing the best in inspirational content and empowering resources to women everywhere. She is an award-winning entrepreneur and founder of Aspire Magazine, an online magazine serving over 40,000 women subscribers.
For more information on Inspiration for a Woman's Soul: Choosing Happiness, and the accompanying 50 transformational gifts, visit http://www.choosinghappinessbook.com.