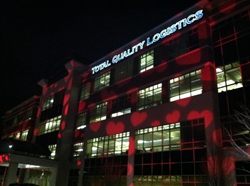 Cincinnati, Ohio (PRWEB) February 11, 2015
Total Quality Logistics (TQL) has a number of initiatives under way to help raise awareness and funds for heart health during the annual National Heart Month in February 2015.
Raising Awareness: Company headquarters in Cincinnati is lit up every night this month with a variety of colored hearts visible to thousands of drivers along Interstate 275.
Team members in satellite offices around the company donned red clothing Feb. 6 as part of the "Go Red for Women" campaign. TQL Cincinnati team members will wear red Feb. 10.
Fundraising: TQL is using February to assemble teams for the 38th annual Cincinnati Heart Mini running/walking event scheduled for March 15. Events include the 15K Heart Mini, a half marathon, the 5K heart race, 2K kids race, three- and five-mile heart walks and the 1K Steps For Strokes.
Over the last seven years, TQL and its employees have donated an average of nearly $10,000 a year for the American Heart Association via the Cincinnati Heart Mini. The American Heart Association is the largest voluntary health organization working to prevent, treat and defeat heart disease, stroke and other cardiovascular illnesses.
About TQL
Total Quality Logistics is the second-largest freight brokerage firm in the nation with 28 offices in 16 states. The company's social investments focus on children, education, health and wellness and military support. In 2014, TQL donated nearly $1 million to charitable organizations. TQL is headquartered in Cincinnati, Ohio, and has more than 3,100 employees across the country. Individual satellite offices and team members financially support and volunteer with countless organizations close to their own hearts. Connect with TQL on the web at TQL.com, on Facebook at Life at TQL or on Twitter @TQLogistics.
Need additional information or photos? Contact Mark Motz at mmotz(at)tql(dot)com or 513-831-2600 x. 56545.